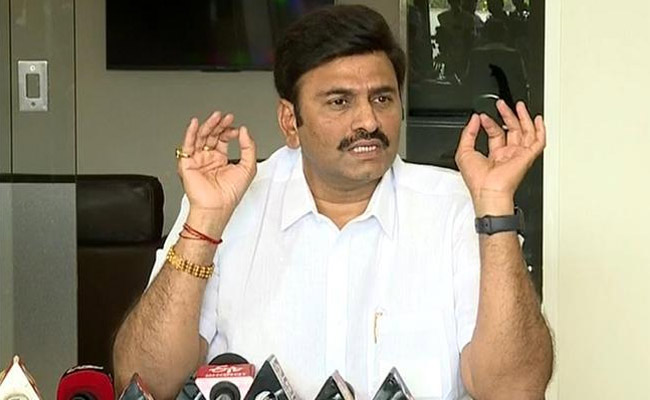 Narasapur MP K Raghurama Krishnam Raju has been making allegations against his own party leadership, targeting chief minister Y S Jagan Mohan Reddy and the state government for the past two-and-a-half years.
He became a tough nut to crack for the ruling party and had crossed his limits in criticizing Jagan Mohan Reddy, with whose blessings he became an MP.
He neither quits the party due to the differences with the leadership or remains silent as he enjoys the benefit of being an MP.
His tongue has no control in hurling abuses at Jagan Mohan Reddy. He packs abuses and lies and unpacks it before the yellow media every day.
The latest is the Thursday's media meet where he explained how he was trying to visit Bhimavaram to attend Prime Minister Narendra Modi's meeting.
He said he had booked a helicopter and paid advance to reach Bhiamavaram but could not get ground clearance yet.
He further said he paid some advance to the railways to take him to Bhimavaram in an exclusive first class AC coach. Here too he said that he did not get any confirmation.
He further said that he had made a request to the PMO to take him along with the SPG forces, but he is yet to get clearance.
While justifying his efforts as genuine, the rebel MP said that Jagan was conspiring to stop him!
He let loose his tongue forgetting the fact that he is an MP and became MP for the first time with the B Form given by Jagan Mohan Reddy.
He also gave a warning to the state government that if he comes to Bhimavaram and if the state police arrest him, the Prime Minister's programme will not be held.
Above all, journalist Venkata Krishna says that people of Bhimavaram, for that matter, even the soul of Alluri Sitarama Raju wants the rebel MP to be present in the town when the statue is unveiled!