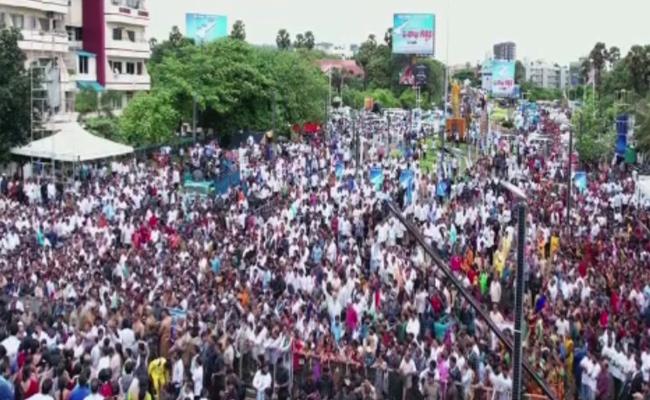 The massive rally being organised by the Joint Action Committee (JAC) on Decentralization on Saturday in support of the Y S Jagan Mohan Reddy government's decision to form three capitals for the state is expected to turn around the fortunes of the ruling YSR Congress party.
Though on paper, it is the JAC which is holding the rally, it is a known fact that the entire force behind the programme is YSRC and the Jagan government, with a view to kicking up the capital sentiment among the people of coastal Andhra.
While the ruling party leaders are taking the initiative in mobilising the crowds from all parts of the state, including from Rayalaseema, the police machinery and district administration of Viskahapatnam are making all the arrangements for the rally.
The chief minister's publicity wing itself has leaked to the media the YSRC is putting up a show of strength in favour of Visakhapatnam as the state capital.
"The MLAs, Ministers and non-political JAC members will hold a 3.5 kilometre 'Visakha Garjana' rally," a statement said.
The rally will start from Ambedkar statue at LIC building and would culminate into a public meeting at YSR statue near RK Beach. According to the party claims, nearly one lakh people would be in attendance for the mega 'Garjana' rally.
According to party sources, the chief minister is confident that the rally would kick up a huge debate in favour of three capitals with the executive capital of Visakhapatnam. It will generate a positive atmosphere for the YSRC in north coastal Andhra, he feels.
"The chief minister knows that the capital issue will not be resolved till the next elections. So, the next best thing is to kick up a sentiment among the people of north coastal Andhra, so that it will benefit the party in the next elections," a party leader said.
If the YSRC can ensure sweeping of seats in this region, it can come back to power again.
"The party is anyway in a favourable position in Rayalaseema. Even if it loses some seats in the central Andhra and Godavari districts, it will still be in advantageous position, if it can conquer north coastal Andhra by kicking up the capital sentiment," sources added.