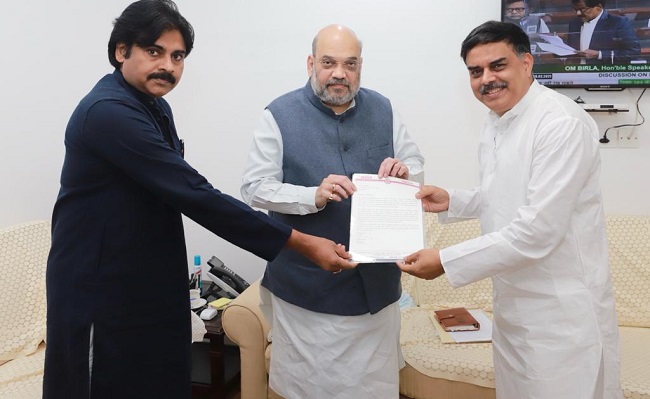 Even after camping in New Delhi for two consecutive days, power star and Jana Sena Party chief Pawan Kalyan once again drew blank on securing an assurance from the Bharatiya Janata Party leadership on Tirupati parliamentary seat, by-elections for which are scheduled to be held shortly.
Pawan, along with his colleague Nadendla Manohar, had a half-an-hour meeting with former BJP president and Union home minister Amit Shah in New Delhi on Tuesday evening, raised the issue of Tirupati by-elections, but the BJP boss is learnt to have evaded a direct reply.
He told reporters in New Delhi on Wednesday that a decision on Tirupati seat would be taken when Amit Shah comes to Tirumala on March 2 and 3.
"We shall finalise the issue during his visit to Tirumala," Pawan said, adding that both the BJP and Jana Sena would prepare a road map on the future course of actions in the state.
The Jana Sena chief submitted a memorandum to Shah on the privatisation of Visakhapatnam Steel Plant, requesting that the Centre drop the proposal to privatise the steel plant.
"I told him that the steel plant reflected the sentiments of the people of Andhra Pradesh. However, the Centre will take a final call on this issue," he said.
Pawan said the letter written by Andhra Pradesh chief minister Y S Jagan Mohan Reddy to Prime Minister Narendra Modi had no meaning.
"What is the point in writing a letter to the PM, when Jagan already knew that there was an agreement between Vizag Steel Plant and South Korean company POSCO?" he said. "Yet, the YSRC government can still do its best to stop the steel plant," he added.