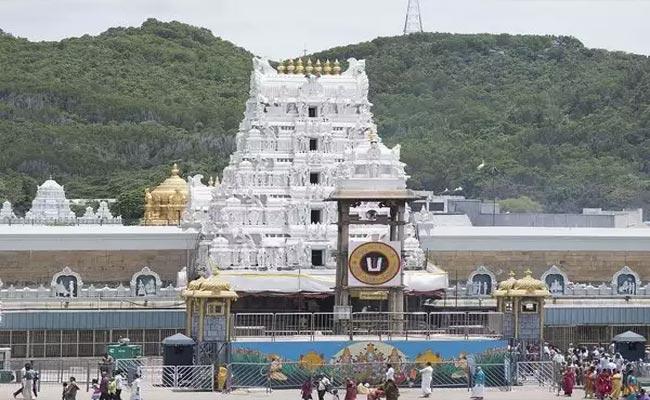 Tirumala Tirupati Devasthanams on Friday strongly denied the charges made by Paripoornananda Swamy of Sree Peetham that the Jagan Mohan Reddy government was misusing the TTD funds, interfering in the temple rituals and creating rumours about pink diamond.
Expressing shock over baseless allegations made by him, a TTD spokesman said the TTD had been treating the TTD employees with utmost dignity, after the abolition of the Mirasi system.
"Swamiji is very well aware that since several decades TTD has been utilising the funds raised through donations, Hundi collections and sale of Arjita seva tickets on various social welfare activities including Educational institutions, hospitals, Old age homes, Veda Pathashalas, Veda University and many dharmic programs also," the spokesman said.
In a similar way, TTD has mulled a Children's super specialty hospital to help the poor and needy children who are suffering from Cardiac and other ailments. TTD wishes to remind the Swamiji that Serving Humanity is to Serving Divinity is what is preached in all Hindu Dharma Shastras and Agamas.
The spokesman said Swamiji is also not ignorant of the massive two-day Gosammelanam convention undertaken by the TTD upon the directions of the chief minister Jagan Mohan Reddy.
"The TTD is also conducting the Gudiko Gomata program on a large scale across the nation. Besides donating a pair of Cow and Calf, TTD has also ensured performance of Go puja in all such temples where it had donated the bovine," he said.
The TTD also reminded the Swamiji about the national Go Maha Sammelan held in Tirupati where in all the Swamijis, Go sevaks from across the country participate, which also passed a resolution once again for recognition of Gomata as a national animal.
The TTD also launched a program for brining all Goshalas in Telugu States under the umbrella of TTD Gosamrakshanashala. Swamiji need not be reminded that Gosamrakshana includes to stop killing of Cows as top priority.
"With a view to containing religious conversions, the TTD has built 500 Sri Venkateswara Swamy temples in SC/ST/BC villages of both Telugu States and construction of another 500 temples are under progress," he said.
The Swamiji should note that the TTD has many times clarified that there was no pink diamond as such existed in TTD custody. The gift by Mysore Maharaja to the Sri Venkateswara Swamy in 1945 was a Ruby and not pink diamond. Even the Justice Wadhwa Commission and Justice Jagannatha Committee also declared the same.
"As the matter of construction of Thousand pillar mandapam is now in Court and TTD will act as per the orders of Court. In spite of knowing all these facts, the baseless allegations made by Swami Paripoornananda with some ulterior motive is truly shocking," the spokesman added.