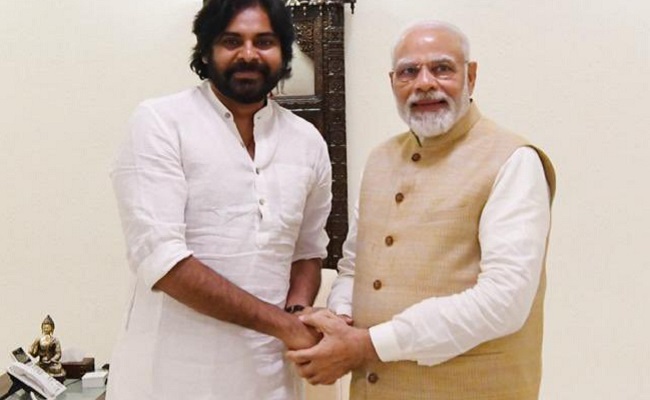 Speculations continue to fly thick and fast in the media in the last three days over what might have exactly transpired between Prime Minister Narendra Modi and power star Pawan Kalyan during the half-an-hour long meeting at INS Chola Suite in Visakhapanam on Saturday.
Even the Bharatiya Janata Party leaders are clueless as to what Pawan had told Modi and what the latter had suggested to him, while the Jana Sena Party chief preferred to remain silent on the meeting.
The YSR Congress party leaders might be trying to brush aside the Pawan-Modi meeting as totally insignificant as they don't want to give so much importance to the power star.
But heart in hearts, they, too, are very curious to know why Modi had called Pawan for a meeting and what they had discussed among themselves. They know that unless Modi has something in his mind, he won't give appointment to the Jana Sena chief.
The latest information from confidential sources close to Jana Sena is that Modi, who gave a patient listening to Pawan Kalyan's version, has reportedly suggested that it would be better if Jana Sena Party contested the next assembly elections independently.
According to the sources, the Prime Minister had given him a piece of mind on why it would be advantageous to Pawan to contest independently in the long-run, instead of joining hands with the Telugu Desam Party. He reportedly assured that the BJP would extend all cooperation to Jana Sena in the elections.
"If Jana Sena forges an alliance with the TDP, Pawan would have to play a second fiddle to Naidu and his family; but would never get an opportunity to grow into an independent political force in the state," sources pointed out, quoting Modi version.
The Prime Minister is learnt to have told Pawan that by contesting independently, the Jana Sena might not get many seats but it would definitely establish itself as a major political force and by 2029, he has every chance to emerge as the only alternative to the YSRC.
"The TDP will die a natural death by 2029 and the Jana Sena could emerge as the next best alternative. In politics, one has to be patient and go in a strategic manner, instead of expecting instant results," Modi is learnt to have told Pawan.
One doesn't know how far this information is correct; but one thing is certain that Pawan can prove his actual strength by contesting independently, instead of going with the TDP. But the actor is worried that he might have to face yet another humiliating defeat, if he goes independently!