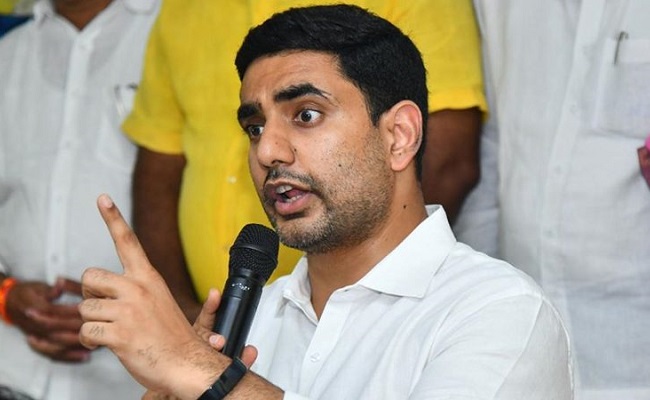 It looks like Telugu Desam Party general secretary and MLC Nara Lokesh is screwing up his own chances of succeeding his father N Chandrababu Naidu as the party president, even as the latter is struggling hard to project his son as the chief ministerial candidate.
Despite being trolled by his political rivals in the YSR Congress party as a dud, "Chitti Naidu" or "Pappu Naidu" in the social media, Lokesh has not learnt the art of articulation in politics – what to speak where and how to raise the public issues.
On many occasions, the TDP cadres themselves are not able to understand what Lokesh speaks. And that is perhaps the reason why they are not willing to accept as the political heir of Naidu and are demanding that Jr N T Rama Rao takes over the party reins.
On Tuesday, too, Lokesh came under heavy trolling in the social media for his comments while praising his father and grandfather for leading the TDP and developing the state.
Addressing party cadres at the party office after taking part in a bike rally from Naidu's Undavalli residence to the party central office in Mangalagiri to mark the 40th foundation day celebrations of the party, Lokesh described NTR as "Devudu" and his father Chandrababu Naidu as "Ramudu," while describing YSR Congress party president and chief minister Y S Jagan Mohan Reddy as "Rakshasudu."
In the same breath, Lokesh described himself as "Moorkhudu" (idiot), much to the surprise of the party cadres. Perhaps, he wanted to call himself as "Mondodu," (stubborn man), but he could not find the right word and so, referred to himself as "Moorkhudu."
Within no time, the social media picked it up and subjected him to heavy trolling. His political rivals and Sakshi media did not lose the opportunity to attack Lokesh and also Naidu. Using cinematic memes, they targeted both father and son.
It has been more than nine years since Lokesh has entered politics, but he is yet to learn how to speak in public. No doubt, he has started going into public and interacting with them. But if he cannot prove himself as a public speaker, he will have to face such trolling every day!