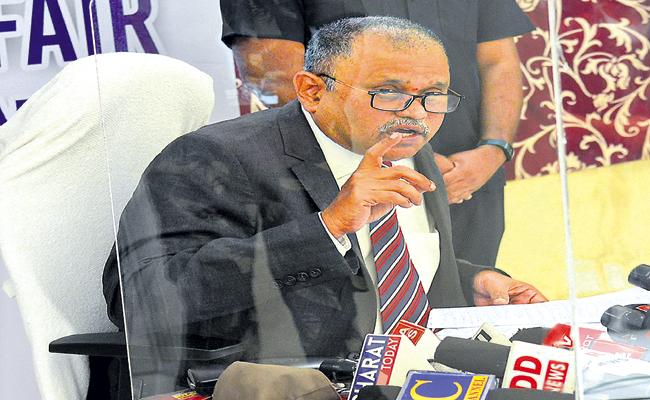 Every citizen above the age of 18 years is eligible to get his right to vote. He or she can apply for voter registration, duly giving the residence certificate or Aadhar card.
The vote is given based on the area where one lives. Someone living in one place, cannot have vote in other place. This is as simple and clear as people say and people know.
But surprisingly, Andhra Pradesh State Election Commissioner Nimmagadda Ramesh Kumar wanted to have his vote registered in his native village Duggirala in Guntur district.
Nimmagadda lives in Hyderabad. Being AP SEC, he rented a house in Vijayawada and lives here only on working days.
His permanent address is in Hyderabad and so the local officials at Duggirala have refused his application to register his name as voter in Duggirala.
He made an appeal to the Guntur district collector to use the discretionary powers and give him vote in Duggirala, where he never lived.
Now, he openly admitted at his press conference, the other day, that he would move the court to give him voter card at Duggirala.
The SEC could have asked for voter card in Vijayawada, where he is residing on the week days, since he had cancelled, as he claimed, his voter card in Hyderabad.
But, surprisingly and shockingly, he is asking for the voter card in a place where is not living. If the courts give him the voter card, those who are living away from their native places too can avail the same.
The NRIs can have their votes in their native places. People residing away from the native place can also have their voter cards in their native places.
Click Here for Latest Direct-to-OTT Releases (List Updates Daily)