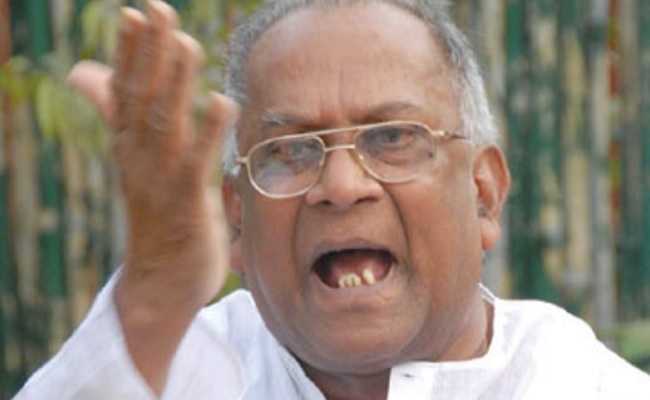 Former MP from Narasapuram and Kapu leader Chegondi Venkata Harirama Jogaiah has faded out of Andhra Pradesh politics long ago. He has virtually no takers in any of the political parties.
Yet, Jogaiah has been trying to be in the limelight by taking up the cause of Kapus, after another Kapu strongman Mudragada Padmanabham has withdrawn his agitation for Kapu reservations.
Jogaiah, who also served as a minister during the N T Rama Rao regime, floated Kapu Samkshema Sena and has been giving unsolicited advices to Jana Sena Party president and power star Pawan Kalyan on his political moves.
Even as the talk of a possible alliance between Jana Sena Party and Telugu Desam Party ahead of the next assembly elections in Andhra Pradesh has been the topic of heated debate in the state political circles, Jogaiah has sought to interfere in the matter and give a piece of advice to Pawan.
In an open letter to the Jana Sena Party chief, the Kapu leader advised the former not to fall into the trap of the ruling YSR Congress party and take hasty decisions.
"The YSRC leaders are challenging Pawan to contest on his own in the next elections to prove his popularity, instead of allying with the other parties," he pointed out.
Jogaiah said Pawan should not react emotionally and fight the elections singlehandedly.
"You need to move strategically. The alliance with the TDP and the Bharatiya Janata Party is a must to win the elections. There is no need to react to the challenges of YSRC leaders and fall into their trap," he said.
Jogaiah said there is a largescale conspiracy behind the YSRC leaders throwing challenges to the TDP and Jana Sena.
"They are trying to provoke Pawan. He has to go cautiously and see that the anti-incumbency vote doesn't split. It is his responsibility," he asserted.
The former MP appreciated Pawan for exposing the failures of the Jagan Mohan Reddy government and spending his own funds to provide financial assistance to the families of those tenant farmers who had committed suicide.
"It is better if Pawan explains to the people what he would do for the farmers, if the people vote for him in the next elections," he said.