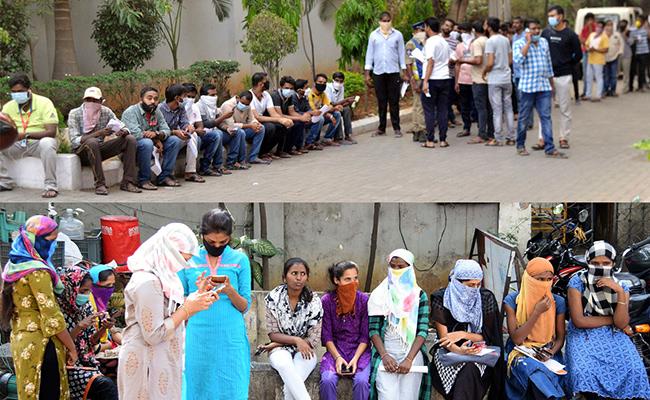 The chaotic situation prevailing at the Andhra-Telangana borders following the refusal of Andhra Pradesh government to allow thousands of people from Hyderabad to cross the border is purely due to lack of communication between the two state governments.
More than 5,000 people, comprising students and men and women working in various private organisations and youth preparing for various competitive examinations, staying in various hostels and paying guest accommodations in Hyderabad got stranded at the inter-state border check posts for the last 20 hours.
These people took permission from the Hyderabad, Rachakonda and Cyberabad police authorities in writing and given travel permits to go to their native places in AP, after they were thrown out from their hostels, which downed their shutters following the lockdown.
What the Telangana government failed to do was to coordinate with the AP government before issuing passes to these travellers so that they could have smooth passage.
But the Telangana police did not do so and as a result, the arrival of thousands of people at the AP borders created a chaos.
Since there were no instructions from the Jagan Mohan Reddy government, the Andhra police at the border check posts did not allow them to travel further.
They clearly said there was no communication from the Telangana government and hence, the passes issued by Telangana police were not valid in AP.
This resulted in an argument between the stranded travellers and the police. The passengers, including a large number of women, faced severe hardship on the highways, as they had no food or water or even toilet facilities at the check posts. They had no place even to sleep. Many of them were seen sleeping on the roadside.
It was only after several hours that Andhra chief secretary Neelam Sawhney spoke to her Telangana counterpart Somesh Kumar and other senior officials of the CMO, requesting that all the people who got stranded at the borders be taken back. But the people had travelled for more than 200 km and they could not go back to Hyderabad.
The stalemate continued till Thursday afternoon, when the AP authorities agreed to allow the people on the condition that they would be shifted to isolation camps, where they would have to stay for 14 days.
While the Telangana government behaved irresponsibly, the AP government, too, did not show any humanitarian attitude towards the people coming into their state.
After all, they all belong to Andhra Pradesh and were coming from the neighbouring state, where they haven't been affected by Coronavirus.
And AP government should also not have allowed so many people getting stranded at the border, since such a mass gathering might lead to spread of disease!