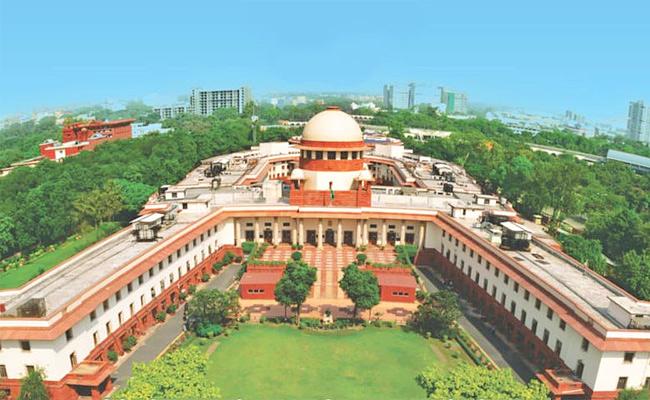 The Supreme Court on Monday refused to grant stay on the March 3 order of the Andhra Pradesh high court declaring Amaravati as the state capital, but stayed the directions on completion of pending works within six months.
Acting on the special leave petition filed by the state government on September 17 challenging the high court order, a division bench comprising Justices KM Joseph and BV Nagarathna sought the response of the Central government, and other respondents on the state government appeal.
The court rejected the appeal to stay the high court order but stayed its directions to the state government to fully construct and develop the Amaravati capital city and capital region of the Andhra Pradesh State within six months.
"We are inclined to examine this issue... Issue notice. Till next date of hearing, there will be a stay of direction 3-7," the Supreme Court ordered.
The Court observed that if it did not stay the High Court directions, it would be as as good as dismissing the plea.
Arguments in the case will now be heard on January 31, 2023.
The State moved the High Court in a bid to revive its plan to have three capitals.
It proposed administrative capital in Visakhapatnam, judicial capital in Kurnool and the legislative capital in Amaravati but it failed to materialise due to numerous petitions filed before the High Court challenging the move.
The proposed formation of three capitals by the State government was challenged by the farmers of Amaravati.
The farmers claimed that the government had entered into agreements with them for offering their land under the Land Pooling Scheme (LPS), promising to develop a new capital.
A division bench of the High Court headed by Chief Justice Prashant Kumar Mishra had held that the state legislature had no competence to make any legislation on the State capital and directed the state government not to shift any office from the present capital city of Amaravati.
The State then moved the Supreme Court stating the following:
1. The issue had become infructuous since the impugned legislations had been repealed. The AP Decentralisation and Inclusive Development of All Regions Repeal Bill, 2021, was introduced in the assembly by Finance Minister Bugganna Rajendranath Reddy to scrap the AP Decentralisation and Inclusive Development of All Regions Act, 2020, and AP Capital Region Development Authority Repeal Act, 2020, for the development of three capitals — Amaravati (legislative), Visakhapatnam (executive) and Kurnool (judicial).
2. Under the federal structure of the Constitution, every State has an inherent right to determine where it should carry out its capital functions from.
3. To hold that a State does not have the power to decide on its capital is violative of the basic structure of the Constitution.
4. The judgement is violative of the doctrine of separation of powers since it pre-empts the legislature from taking up the issue.