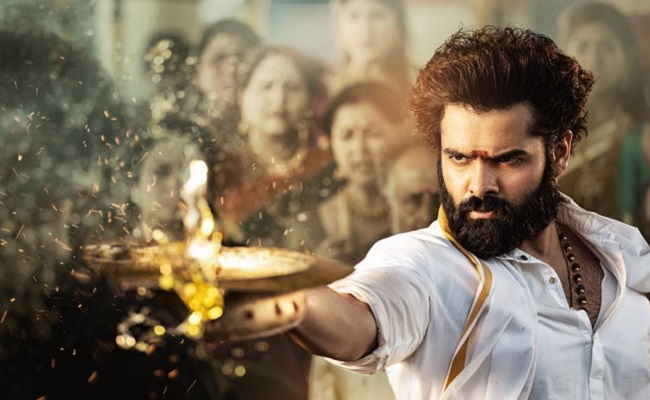 Movie: Skanda
Rating: 2/5
Banner: Srinivasaa Silver Screen, Zee Studios
Cast: Ram Pothineni, Sreeleela, Saiee Manjrekar, Prince, Srikanth, Daggubati Raja, Gautami, Sharath Lohitashwa, Indraja, and others
Dialogues: M Rathnam
Music: S Thaman
DOP: Santosh Detake
Editor: Tammiraju
Action: Stun Siva
Choreography: Prem Rakshith
Production Designer: AS Prakash
Producer: Srinivasaa Chitturi
Written and Directed by: Boyapati Sreenu
Release Date: Sep 28, 2023
Boyapati Sreenu is renowned for creating films that cater to mass audiences. After the enormous success of "Akhanda," he teamed up with Ram Pothineni, who had garnered a significant fan base among mass moviegoers following "iSmart Shankar." The question is, did their collaboration prove to be successful or not?
Let's delve into it.
Story:
A flurry of action erupts when Telangana's chief minister's son runs away with Andhra Pradesh's chief minister's daughter.
While the Andhra CM dispatches a man to bring his daughter and assassinate the Telangana CM, a college student (Ram), a classmate of the Telangana CM's daughter (Sreeleela), abruptly changes the game. He kidnaps both of CM's daughters.
Why did he take such kidnaps? What role did the businessman (Srikanth) play in this entire episode?
Artistes' Performances:
Ram Pothineni has skillfully integrated himself into director Boyapati's action drama realm. He has two roles. He plays both an Andhra and a Telangana man in one character. In another role, he plays a Seema guy from Morocco. Ram bulked up his body by gaining more than 10 kgs, and this transition worked well for the mass avatar he plays in the film. He doesn't do any remarkable acting, but he does action stunts exceptionally well.
Sreeleela appears in a few moments and two songs in the first half, as well as one song in the second.
Saiee Manjrekar gets a couple of sequences. That's all.
Srikanth's expression as the businessman remains the same throughout the film. Daggubati Raja's performance as Ram's father is adequate.
Prince plays a regular negative role.
Technical Excellence:
The cinematography of Santosh Dekate and the action choreography of Stun Siva are the key features.
The producers spent a lot of money to get a rich effect in the action stunts and overall aesthetic.
Music, with the exception of the "Gandarabai" song, is a major letdown on screen.
Highlights:
Action episodes
Drawback:
No logic
Boyapati's predictable style
Songs
Boring second half
Analysis
There are two things you don't expect to find in a Boyapati Sreenu film: 1) logic, and 2) sensibility.
"Skanda," his latest action film starring Ram Pothineni, falls in line with this tradition of being an illogical action film designed to convey his political message.
Setting aside the political messaging and Boyapati's personal sentiments, the most critical question to ask about the film is whether it is enjoyable or engaging. Unfortunately, nothing in "Skanda" makes sense, from the title to the plot.
The plot is straightforward: two chief ministers seek to utilize a businessman to legitimize their illegal money, and when the businessman refuses, the hero comes to his rescue.
Boyapati's signature sequences are all present in this single plotline: the heroine getting abducted, the hero delivering warning dialogues, blowing up vehicles, beheading foes, and the introduction of a second hero (a doppelganger of the protagonist) at the interval and climax.
Boyapati seems to have recycled scenes from his previous films.
Here are a few examples of scenes that can only exist in Boyapati's cinematic universe, as they defy logic:
1. The son of the Telangana chief minister attends the wedding of the Andhra Pradesh chief minister's daughter and departs in a helicopter.
2. Hero Ram arrives at the Telangana Chief Minister's mansion, wreaks havoc, and escapes in a helicopter after delivering a warning to the CM. Even the police are too afraid to approach the hero. Can an unauthorized helicopter actually enter a CM's office or residence?
3. Daggubati Raja arrives at the CM's office with jars of pickle and delivers a warning to the CMs.
4. Srikanth's daughter, Saiee, is the CEO of a company and is in love with a rough-looking man who has committed numerous murders in Morocco. This is utterly absurd.
These examples are just a taste of the illogical sequences present in the film. Even by the end, the reason for the film's title, "Skanda," remains a mystery.
Both Ram and Boyapati have attempted to create a pro-TDP film that portrays the chief ministers of the two states in a negative light. While it may appeal to TDP supporters, the film is completely irrational and devoid of meaning.
On a positive note, the film does have an engaging first hour with its fast-paced storytelling. Ram Pothineni's transformation and one dance number stand out as highlights.
In conclusion, "Skanda" follows the typical Boyapati formula for mass films, featuring numerous illogical sequences and several extended action sequences, including a scene where Ram splits a bow into two blades. It's a film for those who don't mind disregarding logic, but others may find it entirely unappealing.
Bottom Line: Senseless Saga