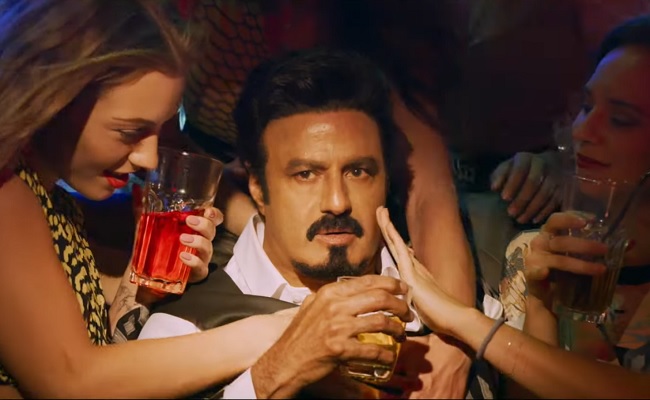 Movie: Ruler
Rating: 1/5
Banner: Happy Movies
Cast: Nandamuri Balakrishna, Sonal Chauhan, Vedhika, Prakash Raj, Bhumika, Jayasudha, and others
Story: Parachuri Murali
Music: Chirantan Bhatt
Cinematography: C Ram Prasad
Editing: Kotagiri
Fights: Ram-Lakshman, Anbu Arivu
Producer: C Kalyan
Directed by: KS Ravikumar
Release date: December 20, 2019
After the successful film 'Jai Simha', senior actor Nandamuri Balakrishna, director K S Ravikumar and producer C Kalyan have teamed up for 'Ruler'. The film didn't create any great buzz but it is projected to be one of the biggest releases this year for various reasons.
Let's find out whether this successful combination has come up with another winner this time?
Story:
A corporate company's chairperson (Jayasudha) saves a badly-injured man, who in turn saves her on another occasion. She adopts him as her son. She names him Arjun Prasad (Balakrishna) and makes him the new chairperson of her company.
When Balakrishna proposes to take up a solar power project on behalf of his company in Uttar Pradesh, a politician threatens him. The local people recognize him as Dharma, a police officer.
Why and how did Dharma lose his memory and what is his rivalry with Thakur, the local minister?
Artistes' Performances:
Nandamuri Balakrishna played a role with two different shades - a software company owner and a police officer. In both the variations, he looks awkwardly odd with his outrageous wigs and costumes. At some places, he looks obese and in other places, he is a bit slim.
Sonal Chauhan and Vedhika have played silly characters and look like girls with no brains. They have, however, provided enough glamour show.
Prakash Raj, Bhumika, Jayasudha and Nagineedu…. all have played monotonous characters.
Technical Excellence:
Music director Chirantan Bhatt has given very regular and passable tunes. Cinematography by C Ram Prasad is good. Editing is uneven. Dialogues also lack effectiveness.
Highlights:
Nothing much
Drawback:
Outdated story
Formulaic narration
Boring screenplay
Silly comedy
70's and 80's romance
Analysis
While all other senior stars are experimenting with stories and are trying hard to connect to the current generation with new kinds of characters, it is surprising that Nandamuri Balakrishna is still agreeing to do films with scripts of 80's and 90's. His choice of scripts is proof that he is not updating himself.
The problem is not with the clichéd storylines but the hackneyed narration and outrageously bad physical appearances. Director KS Ravikumar who also seems to have stuck in '90s has presented Balakrishna in a garish avatar.
The story written by Parachuri Murali is outdated. Balakrishna himself had acted in many such stories decades ago. Still, Murali and Ravikumar have narrated it in an outdated fashion with inane comedy scenes.
Some sample scenes:
1) Sonal Chauhan is the owner of an IT company. But she doesn't know about IT hackers. When her assistant introduces some pick-pocketers as IT hackers, she blindly believes and takes them to Bangkok to hack hero Balakrishna's computer. We see some cheap comedy in Bangkok.
2) When an IT woman employee complaints about sexual harassment by a foreign company executive, her project manager tells her to co-operate with the executive so that they would get the project.
3) Vedhika (in a flashback episode) in her first meeting with Balakrishna asks him to look at every inch of her body and let her know which body part was not beautiful so that she would go in for cosmetic surgery (naa structure lo ee part baledo cheppu….adi surgery cheyinchukunta).
4) A comedy track involving Saptagiri with cow's urine and dung.
Added to these silly episodes, there are lectures about the greatness of Telugu farmers who can cultivate even barren lands. Then there is also a speech against the caste system by Balakrishna.
All these scenes are straight out of badly-made bygone era's commercial movies. It is a wonder how Balakrishna okayed such a crass and outdated story.
Frankly, we have to use a microscope to look for one positive aspect in this movie that is replete with boredom.
Bottom-line: Oh My Balayya!