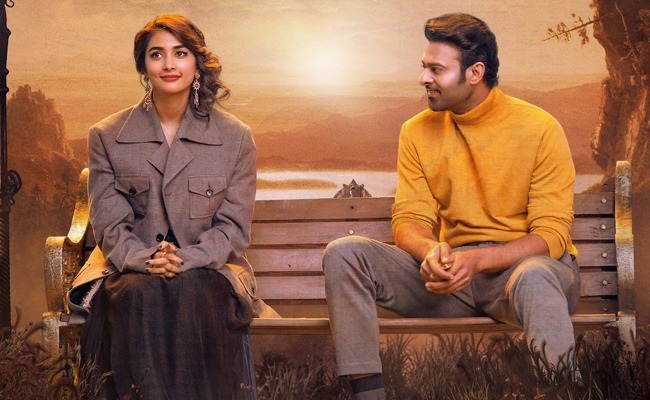 Movie: Radhe Shyam
Rating: 2.75/5
Banner: UV Creations
Cast: Prabhas, Pooja Hegde, Krishnam Raju, Bhagyashree, Sachin Khedekar, Kunal Roy Kapur, Priyadarsi, Jagapathi Babu, Murli Sharma, Riddhi Kumar, Sasha Chettri, and others.
Music: Justin Prabhakaran
Cinematography: Manoj Paramahamsa
Production designer: R Raveendar
Editor: Kotagiri Venkateswara Rao
Sound: Resul Pookutty
Producers: Vamsi, Pramod and Praseedha
Written and Directed by: Radha Krishna Kumar
Release Date: March 11, 2022
Prabhas is one of India's biggest superstars. With his tall and handsome looks, he has already proved that he can effortlessly switch from action roles to romantic characters.
After an action film like "Saaho", Prabhas has now come up with a pure romantic tale. "Radhe Shyam" has been aggressively promoted as a romantic thriller, and the film's promotions have generated tremendous hype.
Let's find out its merits and demerits.
Story:
The story is set in the mid-1970s. Vikramaditya (Prabhas), the Einstein of palmistry, falls in love with Prerana (Pooja Hegde) at first sight. She works as a doctor in Rome. Vikramaditya can predict the future. He never gets it wrong.
Such a renowned palmist is in love with a girl, who as per doctors, might not live long. She is suffering from an incurable tumor.
What will be the fate of their love story? Can fate be changed?
Artistes' Performances:
The best part of the film is Prabhas looking at his dashing best. He is handsome and classy. His screen presence is fabulous. There are no fights in the film, but he gets a couple of emotional moments to showcase his performance skills.
Pooja Hegde is so beautiful. As Prerana, she is ravishing and fits the character well. She looks fresh as a daisy.
Krishnam Raju as a blind astrology guru brings gravitas. Jagapathi Babu, though a short role, made some impact.
Bhagya Shree also made her good screen presence but the emotional connect with the protagonist is not established much.
Purpose of Kunal Kapoor's character is not served at all.
Sachin Khedekar as Pooja's uncle is the only noticeable actor among scores of actors, who get nothing much to do than stand for scenes.
Technical Excellence:
The striking part is Manoj's cinematography besides production design. Art Director Ravinder has created some stunning sets.
Justin Prabhakaran's music is a weak thread to this visually alluring movie. "Ee Raathale" and "Nagumomu" have worked better on audio but they fail to create the same impact with video. Better songs would have made a lot of difference.
Thaman's background score helped the film to the best.
Highlights:
Lavish visuals
Grand production design/values
Prabhas and Pooja Hegde's looks
Some poetic moments
Drawback:
Weak songs
No multiple dimensions
Analysis
The much-hyped Prabhas starrer "Radhe Shyam" is an out-and-out love story. There are no fights. There's no villain in this love story either, other than fate. The conflict also arises from destiny, not from humans. In a way, the love story doesn't follow a regular formula.
We have seen several films based on the concept of reincarnation. Now this is a love story set in the backdrop of palmistry and astrology. That's the point of difference with regard to novelty.
The let down in this heavy budget film is not giving room for seasoned actors to perform. Bhagyashree is shown as Prabhas's mother and also a classical dancer. Apart from getting three or four scenes, she gets nothing in the story. The purpose of her presence in this story is not established. There is a character played by Kunal Roy Kapoor who also appears in two scenes. Priyadarshi does appear as one of the many doctors.
Not developing proper characterizations to all these characters shows a thumsdown to the director.
Not to say that the movie is bereft of interesting moments. The conversation between Prabhas and Krishnam Raju about palmistry and astrology, and the episode involving Riddhi Kumar and the train sequence hold our interest. Pooja Hegde finding the twist is also another beautiful moment.
For any love story, the songs pump in life. Right from Geetanjali and Sakhi of Manirathnam to the recent Love Story of Sekhar Kammula, songs play a crucial role in making the love stories touch the hearts and souls of the audience.
"Radhe Shyam" ends up with miserably ordinary songs.
Plus, the film's 1970s period setting has no relevance to the main conflict/story. The entire attempt looks pretentious and superficial. It didn't serve the purpose other than shooting up the making budget.
"Radhe Shyam" is one of the costliest productions in Indian cinema. No wonder the film has stunning visual and production values. But beneath the glossy veneer, the film looks shallow.
This is only for the multiplex audience but not to the single screens. The masses hardly connect to this astro-based love. Making this film with a pan Indian mass hero like Prabhas may prove wrong commercially. But it is sure that this film may be liked by the audience who hold faith in astrology. In fact, this film scores more points as an astrological film than as a love story.
Bottom line: Thin Love Line