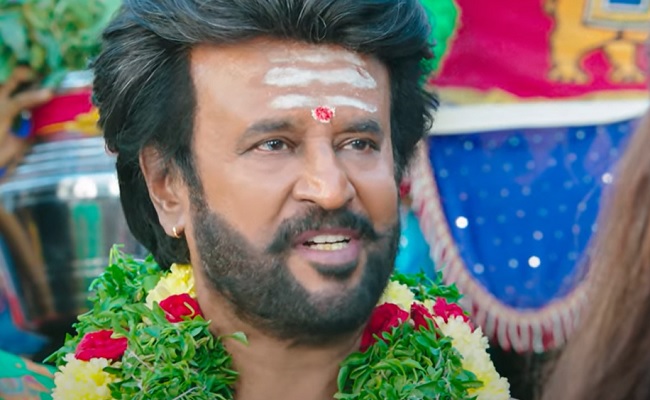 Movie: Peddhanna
Rating: 1.5/5
Banner: Sun Pictures
Cast: Rajinikanth, Kushbu, Meena, Nayanthara, Keerthi Suresh, Soori, Prakash Raj, Jagapathi Babu, Abimanyu Singh and others
Music: D Imman
Editor: Ruben
Director of Photography: Vetri Palaniswamy
Producers: Kalanithi Maran
Directed by: Siva
Release Date: November 4, 2021
"Peddhnna" is the first Rajinikanth film in a long time that was released without any publicity, or hype. The Telugu dubbed version of "Annaatthe" has the lowest pre-release buzz for various reasons.
Let's analyze.
Story:
Veeranna (Rajinikanth) is a village president. He is a doting brother as well. Veeranna says he would give his life for his sister Kanakam (Keerthy Suresh) if the need arises.
Her brother arranges a match for her, and she agrees to it to see the happiness on her brother's face even though she has a boyfriend in Kolkata where she completed her studies.
On her wedding day, she gets a call that her boyfriend has attempted suicide upon learning about her marriage. So, she elopes.
Six months later, Veeranna finds out her whereabouts in Kolkata. But she is in deep trouble. Who is behind her current situation? How does he protect her without appearing before her?
Artistes' Performances:
Rajinikanth cannot be faulted for his acting or his energy. The aging superstar gives his best despite the script bogging him down. In the first half of the film, we get glimpses of energetic Rajinikanth doing comedy. However, in the second half, he looks too old to play regular mass action stunts.
Keerthy Suresh looks clueless for the most part. She either puts up a joyful expression or a weepy face.
Nayanthara's character adds no value to the main story. Jagapathi Babu looks menacing, but his role is poorly written. Meena and Khushbu play minor roles.
Technical Excellence:
The film has rich production values and decent camerawork. No song, composed by D Imman, gets registered.
Highlights:
Rajinikanth
Drawback:
Outdated story
Formulaic writing
Boring comedy
Unbearable sentiment track
Analysis
Barring "Kabali", none of Rajinikanth's recent movies have generated pre-release hype. "Petta", "Kaala", and "Darbar", his last three movies bombed at the box office. Until five or six years ago, the release of the Rajinikanth movie was celebrated like a festival. But such a craze has gone missing now. His directors are also failing miserably to present vintage Rajinikanth in a contemporary style to the gen-next audiences.
The latest "Peddhanna" ("Annaatthe" in Tamil) fails big time as well. Director Siva, whose recent film "Viswasam" Starring Ajith and Nayanthara set the box office on fire, has tried to narrate outdated brother-sister sentiment drama with action elements. We have seen many action movies before. Hence, "Peddhanna" looks bland from the beginning itself.
For the first one and half hours, Rajinikanth does some silly things for comic effect with comedian Soori, and then he is involved in lengthy 'Pelli choopulu' scenes with Khusbhu and Meena. They come into the scene as old flames of Veeranna (Rajinikanth). This entire stretch is an embarrassment to watch. In the name of bringing back the memories of 90s Rajinikanth-Meena, Rajinikanth-Khushbu movies, director Siva resorts to the screenplay of the 90s. Can such outdated comedy scenes bring laughs?
Moreover, the film completely shifts its gears post-interval and it turns into an out-and-out mass action drama. Rajinikanth wielding weapons and bashing up goons makes a tiresome watch, as the drama runs without any twists and turns. The predictability and old-school narrative put us to snooze.
Rajinikanth listening to his sister Keerthy Suresh's travails standing beside a wall, and protecting her without revealing his presence to her tried and tested tricks. Even when Nayanthara provides shelter to her, Keerthy Suresh doesn't ask questions about who she is and why she's given a space in her home. In another scene, Keerthy Suresh goes to a bar in the night to repay the loan to a rowdy. And soon, the scene for a big fight is set. Such clichéd and formulaic scenes come one by one, making us feel like watching a bygone-era sentiment drama rather than today's cinema.
Rajinikanth does his best to bring cheerfulness to the dull proceedings, but the long-drawn drama turns into a yawn.
In a nutshell, "Peddhanna" is not only a huge disappointment; it is also a test for our patience levels. Even the mighty Rajinikanth can't save this film from the bad villain – pathetic writing. In one word: a big bore.
Bottom-line: Vaddhanna!
Click Here for Latest Direct-to-OTT Releases (List Updates Daily)