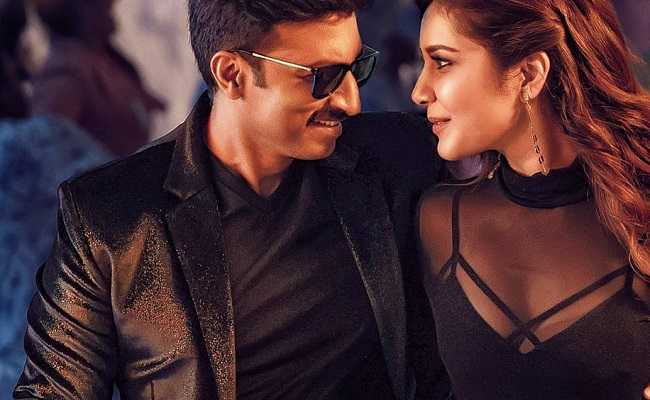 Movie: Pakka Commercial
Rating: 2/5
Banner: UV Creations and GA2 Pictures
Cast: Gopichand, Raashii Khanna, Sathyaraj, Rao Ramesh, Praveen, Saptagiri, and others
Music: Jakes Bejoy
DOP: Karm Chawla
Editor: SB Uddhav
Production Designer: Raveendar
Producer: Bunny Vass
Written and directed by: Maruthi
Release Date: July 01, 2022
Director Maruthi and actor Gopichand's first-ever combination has been making noise on media and social media. The trailers are hilarious. Maruthi's brand of entertainment is what the film promises to offer.
Has it worked? Let's read…
Story:
An idealistic judge Sooryanarayana (Sathyaraj) resigns his job as his conscience doesn't allow him to continue failing a girl with his judgment.
Years later, his son Lucky (Gopichand) also takes up the law profession and becomes the most sought-after lawyer. Unlike his father, Lucky turns out to be a 'commercial', who does anything for a fat fee.
Vivek (Rao Ramesh), a lecherous businessman, hires Lucky to bail him out in cases. Lucky eventually becomes close to Vivek.
What happens next?
Artistes' Performances:
Gopichand has never looked this stylish after 'Jil'. His styling is the main highlight of his role or acting. He does comedy and action in equal proportions.
Raashii Khanna as a TV serial actress fails to provide good laughs. But the romantic thread between Gopichand and Raashii looks forced.
Sathyaraj does his role neatly. Rao Ramesh as a lusty businessman is okay. Praveen, Saptagiri, Viva Harsha, and Ajay Ghosh do nothing much than the usual comedy. Siya Gautam provides eye candy.
Technical Excellence:
The film's production values are neat, but there are many continuity issues as the film was in the making for nearly three years. The songs are neat. Dialogues are very bad.
Highlights:
Last 10 minutes
Drawback:
Patchy scenes
No coherence
Too routine narration
Lack of emotions
Analysis
No one would expect novelty or a great message from Maruthi's "Pakka Commercial" as the title gives clarity on what is on the plate. Furthermore, the two trailers before the release gave an idea that the film is a regular commercial movie with some comedy portions. But even those, like us, who stepped into the theaters well-prepared by the trailers, would be disappointed with this movie for two reasons: 1) bland commerciality and 2) patchy screenplay.
The film had been in the making for a long time, the shooting began much before the first lockdown was imposed. If we see the film, we can see many sequences are shot or reshot as the shoot progressed and they look patchy. The comedy sequences don't have a natural flow.
Raashi Khanna's character, which is an extension of her role from Maruthi's previous film "Prati Roju Pandage", enters in the very beginning to provide comedy. Her comedy track reminds us of what Sreenu Vaitla had done when he was in the prime of his career. But such tracks have lost relevance today. No wonder her track has failed to generate any laughs.
The film begins with Maruthi praying to God to grant his wish of scoring success. At the interval, we see a similar dialogue from Gopichand. In the final sequences, Rao Ramesh's character talks about various websites and asks the review writers to give him good writing. It looks like that Maruthi consciously tried to clear this exam with pass marks rather than narrating his story compellingly.
This 'calculated' method is visible in every part of the movie. There are some laugh-out-loud moments, there are some entertaining portions. But are they enough?
"Pakka Commercial" is packaged in a manner to please the audiences with random episodes and loud sequences. Maruthi's focus has been on individual scenes than the coherent plot. If you are okay with the too commercial way of narrative, this movie may provide some entertainment. But for the regular audiences, the whole exercise seems too bland.
On the whole, "Pakka Commercial" is not pakka entertaining. Except for a few moments, it is routine and regular.
Bottom line: Not 'Pakka' Entertaining.