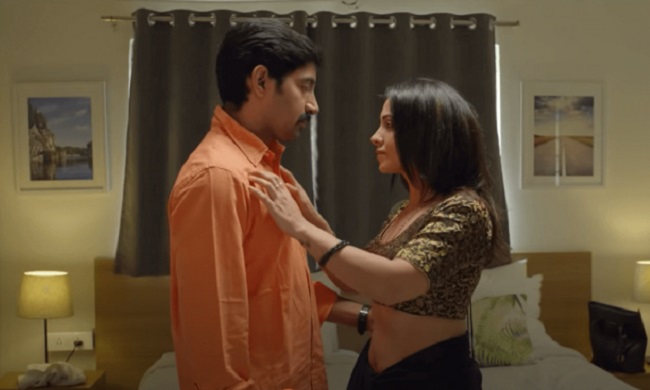 Movie: Metro Kathalu
Rating: 1.5/5
Cast: Sana, Ali Reja, Nakshatra, Tiruvuru, Nandini Rai, Rajeev Kanakala, Bhargavi
Story: Khadeer Babu
Directed by: Karuna Kumar
OTT Platform: Aha
Based on the short stories written by well-known writer and journalist Khadeer Babu, "Metro Kathalu" is directed by Karuna Kumar of 'Palasa 1978' fame.
As the title suggests, this one-hour length film is a collection of four stories set in Hyderabad.
Story 1: Proposal
A soft-spoken and shy IT professional Chandu (Thiruveer Reddy) who admires his colleague Abhirami (Nakshatra) shoots off a poem as a proposal through email. They meet in a restaurant and she reveals her family background, her priorities in life, her first crush. She now asks him to decide whether these are acceptable to him.
This fairly has contemporary touch though it doesn't appeal much. The story and the narration remind us of the scores of YouTube short films made by wannabe filmmakers.
Story 2: Ghatana
An accident brings Manjula (Sana), a frustrated middle-class wife, and a handsome Varun (Ali Reza) together. The late-night and the frustration arising out of her husband's drinking habits drive her to have a one-night stand with the person who caused a road accident that put her husband on the hospital bed.
The one-night stand between Sana, who is much older to Ali Reza has some shock value but the story is not convincing at all.
Story 3: Selfie
Supriya (Nandini Rai) whose husband is a career-oriented person meets her once in six months. Theirs is a long-distance relationship. Longing for love and sex, she and her friend Raghav (Ram Maddukuri) go to a resort. Before they proceed further, she notices severe pain in the chest and she is later diagnosed with breast cancer.
Supriya sends a selfie pic of her breasts to her husband's mobile to reveal that she has cancer. This story has some relevance to the metro city but except for Nandini's performance, it doesn't appeal at all.
Story 4: Tegalu
Abbas (Rajeev Kanakala) has a habit of eating Tegalu (Palmyra sprouts), that despises his wife Salma (Gayatri Bhargav). What is the emotional connection that Abbas has with Palmyra sports is the basis for this short sentimental story.
This is a nostalgic trip, adds no real value.
In 2007, Bollywood director Anurag Basu came up with a beautiful film titled "Life In a…Metro" that narrated the lives of many people living in Mumbai with themes like extra-marital affairs and love and longing. The film portrayed life in Mumbai so beautifully. Similarly, in the same year came another Bollywood film, "Dus Kahaniyaan", a film comprising ten short films telling ten different stories.
Unlike these two films, "Metro Kathalu" neither depicts life in a metro city like Hyderabad, nor the four different stories are appealing enough. These four stories are random tales that have no common thread. The stories could have happened anywhere. Hyderabad has no real meaning to these stores.
Director Karuna Kumar who showed his mark in his debut film, "Palasa 1978" by stamping his Dalit voice, has brought nothing new to the board.
"Metro Kathalu" is another proof that the Aha OTT platform is poor at content selection.
We can understand Aha OTT this way. A student who doesn't know the answer to a particular question, fills something nonsense to give the impression that he answered it. But the evaluator strikes it off if he pays attention. Here the audience are evaluators.
Why will they buy the trash paying yearly subscription to Aha OTT? While the films like S!N are nasty with poor making standards, these Metro Kathalu are spineless.
Bottom Line: Useless stuff
Click Here for Latest Direct-to-OTT Releases (List Updates Daily)