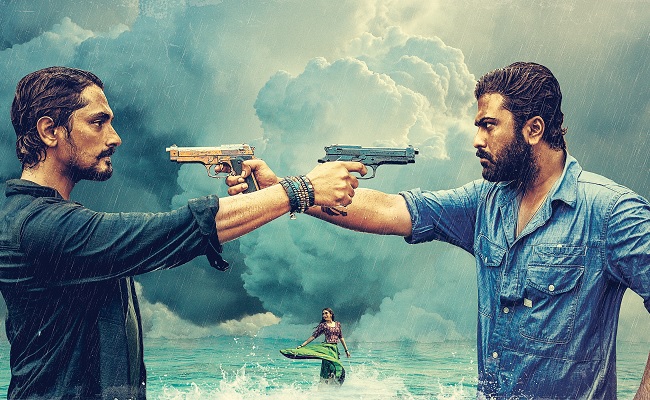 Movie: Maha Samudram
Rating: 2.5/5
Banner: AK Entertainments
Cast: Sharwanand, Siddharth, Aditi Rao Hydari, Anu Emmanuel, Jagapathi Babu, Rao Ramesh, 'Garuda' Ram, and others
Music: Chaitan Bharadwaj
Cinematography: Raj Thota
Editor: Praveen KL
Art: Kolla Avinash
Fights: Venkat
Producer: Sunkara Ramabrahmam
Written and Direction: Ajay Bhupathi
Release Date: October 14, 2021
"RX 100" was a runaway hit, and the film established the careers of Ajay Bhupathi, Kartikeya, and Payal Rajput. Ajay Bhupati took a long time to direct his second film.
"Maha Samudram", Ajay's second film, is here. The film's trailers captivated the audiences. The film has generated huge buzz before the release.
Let's find out whether it lives up to the expectations.
Story:
This is a saga of two friends, the story is set in Vizag. Arjun (Sharwanand) and Vijay (Siddharth) are close buddies. Vijay aims to be a police officer but an incident changes the course of his life.
Maha (Adithi) is the love interest of Vijay. Smitha (Anu) runs into the life of Arjun.
Unexpectedly a tiff takes place between Vizag port's don Dhanunjay (Garuda Ram) and Vijay. Dhanunjay is the brother of Gooni Babji (Rao Ramesh). A situation forces Vijay to leave the city and go into oblivion. Chunchu (Jagapathi Babu) directs Arjun to confront Gooni Babji.
What happens next is the story.
Artistes' Performances:
The performances by all the lead actors are appreciable. Sharwanand has shown a lot of maturity in portraying the character that carries the emotional burden. He has got some good lines as well.
Siddharth, who has returned to Telugu films after a gap of eight years, does a role that he has not done before in Telugu cinema. He portrays negative shades convincingly.
Aditi Rao as Maha, a woman caught between two friends, plays the passive role in her usual style.
Anu Emmanuel as Sharwanand's girlfriend is treated like a curry leaf, which adds no value to the story.
Rao Ramesh as Gooni Babji, and Jagapathi Babu as Chunchu shine in their roles that have unique characterizations and mannerisms.
Technical Excellence:
Chaitan Bharadwaj's music is a huge disappointment but his work lacks catchy songs like "Pilla Raa" that he had given for "RX100". '
Arjun Reddy' fame Raj Thota's camera work is splendid. Of all the technicians, he does an exceptional job. He has captured the intense moments well.
Highlights:
Characterizations
Performances
Cinematography
Drawback:
Convenient story
No high moment
Cliched and predictable final moments
Weak songs
Analysis:
"Maha Samudram" is a template story of 'friends turned foes' in the backdrop of Vizag port. But director Ajay Bhupathi begins the film interestingly from halfway through the story.
Instead of jumping into the plot and the conflict, Ajay Bhupathi introduces various characters – Sharwanand, Siddharth, Anu Emmanuel, Aditi Rao, Aditi Rao's father, Jagapathi Babu, Rao Ramesh, etc. The director has written interesting characterization for the main roles.
Though he takes nearly an hour to establish the main plot, the characterizations and the narrative intrigue us keeping us glued to the screen for most of the first half. However, as soon it becomes evident that the film is turning into a clichéd plot of friends-turned-foes, our interest also begins to fade out. Even before the film comes to the interval, the engaging narrative wears off.
Siddharth leaving the city of Vizag to hide from the goons is understandable. But why is it that he never contacts his friend Sharwanand in the four years either or calls him? What is the purpose of Anu Emmanuel being a lawyer, does it connect to any thread of the story? Siddharth's re-entry into the story brings more mess than resolving the issues.
The second half of the film raises so many questions as proceedings turn bland and clichéd. The so-called misunderstanding between friends, and Aditi Rao suddenly developing love towards Sharwanand look like convenient plot twists.
All in all, "Maha Samudram" is neither a love story nor a gangster drama. It lacks soul and is unconvincing. Barring terrific cinematography and performances, the film is quite boring.
Bottom-line: No Tides