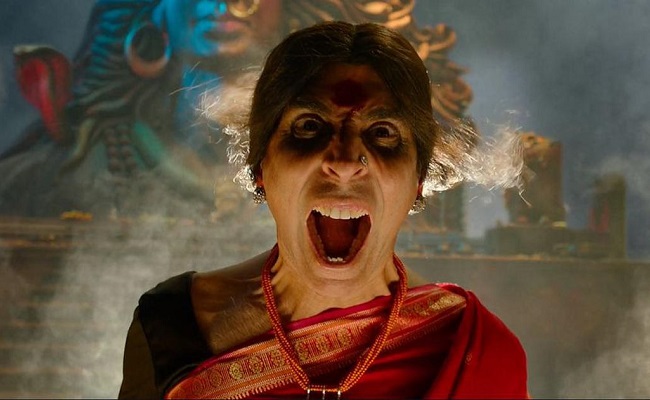 Movie: Laxmii
Rating: 1/5
Banner: Fox Star Studios
Cast: Akshay Kumar, Kiara Advani, Sharad Kelkar, Ayesha Raja Mishra, Ashwini Kaleskar and others
Music: Amar Mohile
Cinematography: Vetri Palanisamy, Kush Chhabria
Editor: Rajesh Panday
Written and directed by: Raghava Lawrence
Release date: November 9, 2020
Streaming on: Disney+Hotstar
"Laxmii" is the latest Bollywood biggie that has skipped theatrical release to stream on the OTT platform.
Starring Akshay Kumar in the lead role, the film is a remake of Tamil-Telugu blockbuster "Kanchana". Let's find out how does this Hindi version of Kanchana fare….
Story:
Asif (Akshay Kumar) and Rashmi (Kiara Advani) got married three years ago. Rashmi's father didn't accept Asif as his son-in-law as he is Muslim.
Rashmi's mother, however, invites them to their village to celebrate their 25th wedding anniversary.
Once Asif, who is also a ghostbuster, comes to their in-laws' house starts behaving like a woman – draping a sari in a showroom, putting turmeric on his face, wearing bangles, etc.
Shocked by his behavior, the family takes him to a shaman. He is possessed by a ghost named Laxmii. The ghost reveals her story.
Artistes' Performances:
Kanchana was clicked at the box-office due to its comedy and the performances of Kovai Sarala, Devadarshi, and Raghava Lawrence. Their chemistry was one of the major highlights.
kshay Kumar has reprised the role played by Raghava Lawrence in the original film, Kanchana. Though Akshay is in his elements, his performance lacks punch.
Here, the mother's role turns into mother-in-law, which is essayed by Ayesha Raja Mishra. But both Ayesha Raja Mishra and Ashwini Kaleskar have failed to generate the laughs that the Kovai-Devadarshi duo had achieved in the original.
Sharad Kelkar as transgender Laxmii is impressive. Kiara Advani's character is dumb, and so are her expressions.
Technical Excellence:
The film has rich production values and is shot on a lavish budget compared to the original movie. Has better VFX, and a glossier setup than the original. But writing and editing are the weakest part.
Highlights:
Akshay Kumar
Drawback:
Ineffective comedy
Weak writing
Over the top drama
Poor performances
Lack of thrills
Analysis
Except for minor changes like relationships, "Laxmii" is the faithful remake of Raghava Lawrence's blockbuster "Kanchana". Though it is remade by the original director Raghava Lawrence, the Hindi version pales in comparison with the original horror-comedy.
Story-wise, there is no difference, the script was as formulaic as the original, the situations are as hyperbolic. Though "Kanchana" was not enjoyed for its story but its comedy and hilarious performances.
Lawrence's innocent expressions when he turned into a woman was a cracker. Kovai Sarala's comedy, coupled with her chemistry with Devadarsi brought down the house. The Kanchana's second half had better sequences.
Lawrence and the Hindi writers have tweaked the characters, but they have not achieved half of "Kanchana". The actors have strained themselves to be comical. However, their efforts have gone in vain. The forced comedy here irritates you.
In the entire film, only one sequence - Akshay Kumar performing the episode of "pata chal gaya" ("telispoyindaa" in the Telugu) is hilarious. Akshay Kumar is terrific in this sequence. But other episodes are cringe-worthy. Over-the-top drama, predictable horror elements, and old-school narration have failed to click.
Not much thrilling factor is there for those who have already seen the original. "Laxmii", on the whole, is a damp-squib.
Bottom-line: Horrific Comedy
Click Here for Latest Direct-to-OTT Releases (List Updates Daily)