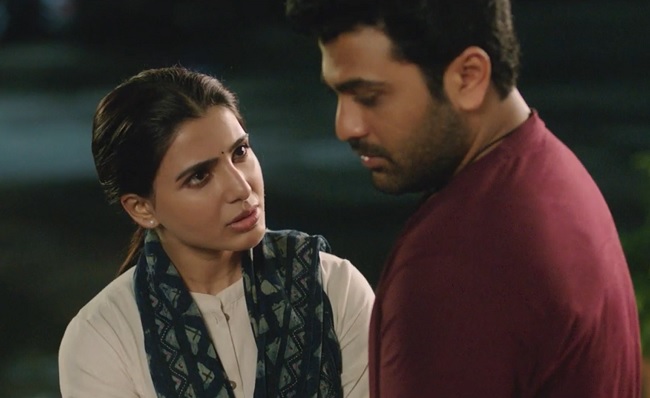 Movie: Jaanu
Rating: 3/5
Banner: Sri Venkateshwara Creations
Cast: Sharwanand, Samantha Akkineni, Vennela Kishore, Sharanaya, and others
Dialogues: Mirchi Kiran
Music: Govind Vasantha
Cinematography: Mahendran
Editor: Praveen Kumar
Producer: Raju, Sirish
Directed by: C Premkumar
Release date: Feb 07, 2020
"96" was the most-talked-about Tamil love story in recent times. Ever since Sharwanand and Samantha agreed to play the lead roles in its Telugu remake, the buzz around this movie had begun to build. The trailer and the songs have added expectations further around "Jaanu".
Let's find out whether the film meets expectations or not.
Story:
Two former high school sweethearts Ram (Sharwanand) and Jaanu (Samantha) meet again at their school reunion. 15 years later, they have a chance to know about each other and reflect on their past. Why did they break up in school?
Why did Ram remain unmarried even as Jaanu got married to another person and has a daughter with him? We know the answers as the film moves, their love story is unveiled in flashback.
Artistes' Performances:
Sharwanand in the role that was played by Vijay Sethupathi has displayed the maturity required. He is earnest, his efforts are noticeable. He has pulled it off.
Samantha walks away with all the honors in the author-backed role. She has brought gravitas to the film from the moment she appears at the interval bang.
Both Sharwanand and Samantha are no match to Tamil's lead pair Vijay Sethupathi and Trisha but they are good in their roles if we judge them without comparisons.
The teenagers who played the younger versions of Samantha and Sharwanand are equally good. Vennela Kishore is okay. Varsha Bollamma and Sharanya play their bit roles well.
Technical Excellence:
A soundtrack plays a crucial role in films like these and Govind Vasantha has given classy numbers.
The songs may not go well with everyone but the background music resonates with the theme well. Cinematography is pleasant. Editing is neat.
Production values and dialogues are adequate.
Highlights:
Sharwanand and Samantha
Poignant moments
Touching climax
Background score
Drawback:
Very slow pace
Predictable sequences
Analysis
"Jaanu" is a faithful remake of the Tamil movie "96" since this romantic drama is also handled by C Premkumar, the writer-director of the original version. It is a touching film that manages to strike a chord with old-style romance.
We have a male protagonist who lacks enough strength to express his love, carries the burden of emotions with him silently. We have a heroine who wants him to take the lead and waits for years and finally succumbs to the pressure from her family. They move on.
15 years later, the reunion happens. But the sparks remain the same. The feelings toward each other have not diminished. Yet, they know their boundaries.
The story is very familiar but the writer-director C Premkumar has presented this theme very well by structuring the screenplay in an interesting manner.
Sharwanand as a travel photographer is introduced at the very beginning and then the movie delves on the teenage romance in the first half.
A proper build-up is maintained for the entry of Jaanu aka Samantha just before the interval. And the second half works as Sharwanand and Samantha stroll on a night rediscovering much like in "Before Sunrise" (1995).
There are many scenes that depict the heartwarming interaction between Samantha and Sharwanand. With such beautifully written scenes, the film engages us enough.
While Vijay Sethupathi and Trisha were natural, acted as if they were real lovers, here both Samantha and Sharwanand have tried hard to bring that feel to some extent. They are good but we notice the pressure on them, certain doubtful body language. This is a huge minus.
Plus, showing Sharwanand with grey hairs in beard at the age of 33 seems forcible, just to recreate Vijay Sethupathi's look.
Having said that, the minuses apart, "Jaanu" has its moments, is very pleasant for its pure love. The slow-paced romantic drama will work who like matured romantic dramas. Despite some issues, the screenplay and good performances from the lead pair have created an impact.
Bottom-line: Faithful Remake