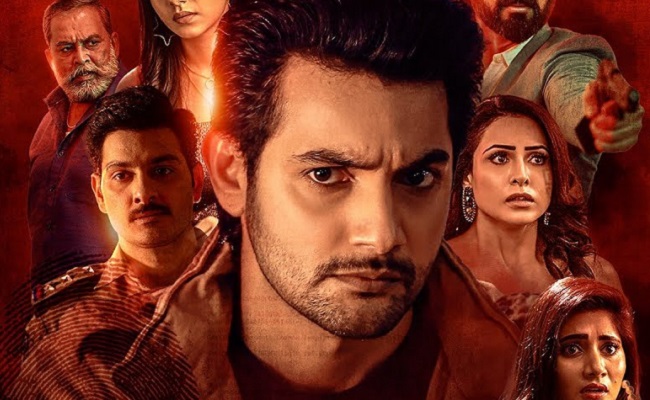 Movie: CSI Sanathan
Rating: 1.5/5
Banner: Chaganti Productions
Cast: Aadi Sai Kumar, Nandini Rai, Tarak Ponnappa, Vasanthi, Sanjay Reddy, Madhusudhan Rao, Ali Reza, Khayyum, Siva Karthik, Vikas, Ravi Prakash, Bhupal Raju, and others
Music: Aneesh Solomon
Cinematographer: Ganganamoni Shekar
Editing: Amar Reddy
Producer: Ajay Srinivas
Written and Direction: Sivashankar Dev
Release Date: March 10, 2023
Aadi Saikumar acts in a lot of movies in a year. He brings films to theatres on a regular basis, whether they are hits or flops. "CSI Sanathan" is his latest film.
Let's see if it has any merits.
Story:
Vikram, a well-known entrepreneur, is killed in his office while a party is taking place on the premises. Sanathan (Aadi Saikumar), who recently finished a criminology course in Delhi, is tasked with investigating the crime scene and assisting the police in cracking the case.
Sanathan names five employees as possible suspects, along with Divya (Nandini Rai) and a politician, who are Vikram's business partners.
How will Vikram solve the case, and who really murdered Sanathan and why?
Artistes' Performances:
In his usual fashion, Aadi Saikumar takes on the role of a police officer who investigates crimes. There is little difference in acting or no attempt to be unique.
Misha Narang, who plays the hero's love interest, is one of the film's many boring characters.
Nandini Rai portrays the stereotypical glam girl. Tarak Ponnappa as businessman Vikram and Madhusudhan Rao as politician have both done well in their respective roles.
Technical Excellence:
The film's production values are low. The technical department adds little value to the proceedings.
Highlights:
Nothing much
Drawback:
Amateurish narration
Cheap production values
Boring characters
Analysis
These days, the majority of first-time directors are writing stories based on their binge-watching habits of international web series. "CSI Sanathan" appears to be the same.
The American web series "CSI: Crime Scene Investigation" ran for a total of 16 seasons. The new director, Sivashankar Dev, seems to have copied one episode and attempted to set it in Hyderabad.
Simply put, a typical episode of any of the countless web dramas available on streaming services has become a feature film. That's "CSI Sanathan" for you.
Aadi Sai Kumar is introduced to the audience with the proclamation that he is a crime scene investigation expert. We're told he can swiftly resolve any case. However, by the end of the film, it becomes clear that this was actually his first case ever as a professional. The director obviously didn't remember what he had written for the opening sequence.
As a CSI professional, he should help the police officer in cracking the case. But we see that he is leading the investigation, and a police officer is assisting him. Such mistakes aside, the film is a totally amateurish effort from the director.
Not a single scene holds the slightest bit of interest. Nobody in the story is interesting. It's all very dull. Like a documentary about science, all the characters are eager to explain all the technical details.
Additionally, the cinematography, the production design, and the background music are substandard.
There are two romantic songs sandwiched between scenes of Aadi Saikumar fighting and dancing. As the film concludes and we discover who killed the businessman, all we can do is think about how simplistic the director's ideas were.
Overall, "CSI Sanathan" is another Aadi Sai Kumar film that puts our patience to the test. This one has more dull moments, ridiculous ideas, and amateurish direction.
Bottom line: Skip it