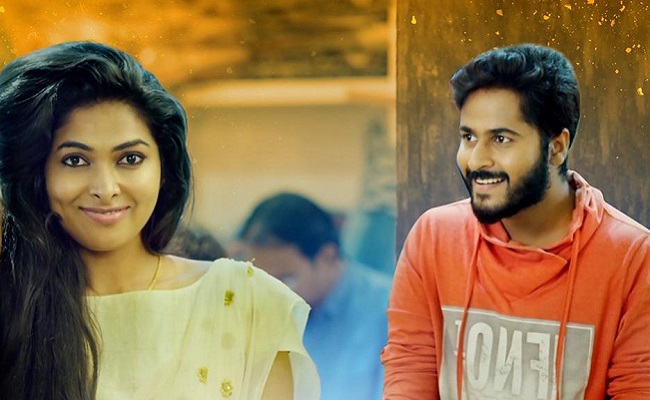 OTT Movie: Cab Stories
Banner: IMAGESPARK Entertainment
Cast: Divi Vadthya, Shihan, Dhanraj, Giridhar, Praveen, Siri, Nandini and others
DOP: Sujatha Siddharth
Music: Sai Kartheek
Editor: Tammiraju
Producer: S Krishna
Director: K V N Rajesh
Streaming on: Spark OTT
Release Date: May 28, 2021
Spark is the new player in the business of OTT platforms in Telugu. After RGV's "D Company", the platform is premiering another exclusive movie titled "Cab Stories". "Bigg Boss Telugu 4" fame Divi Vadthya is in the central role of this movie. Let's find out its merits and demerits.
After completion of a mission, four members - a cab driver, a policeman, a youngster, and another guy – head to their homes in a cab. A voiceover informs us that the cab driver is a man of integrity and begins to reveal the story of what had happened earlier.
One night, a drunken girl Shalini (Divi Vadthya) takes the cab at the pub. During their journey, the cab driver Giri (Giridhar) strikes a conversation with Shalini and she reveals her story with her boyfriend Sagar. Noticing that a previous rider forgot a pouch of drug material in the cab, Giri snatches it and keeps it with him. However, when a police constable stops the cab asking lift, Giri slips the pouch in Shalini's handbag in the hope to take it later.
The next day, the drug gang threatens Giri to bring back the pouch to them or face the consequences. The rest of the movie is about Giri finding the pouch again.
Story-wise, it offers nothing new. The presentation and narration are also mediocre. After initial 15 minutes, it is pretty evident that the director lacks narrative skills. By end of the one hour 20 minutes, you would be clueless as to what the film was trying to say. Is it about Giridhar, the cab driver, or Divi and her boyfriend's silly story? Why do we need to watch an unrelated thread of Sirisha, Shalini's roommate, and her boss Praveen?
The clueless writer and director end the movie with the hint that there is volume two. This is another attempt to pass off 'short film' material as an OTT movie.
While Divi Vadthya possesses a striking physical appearance, her acting skills are nothing to talk about. Giridhar gets the main lead role and he shines in it.
In a nutshell, "Cab Stories" is another mediocre content on OTT space, that doesn't have a proper script or engaging narration.
Bottom-line: Mediocre Movie
Click Here for Latest Direct-to-OTT Releases (List Updates Daily)