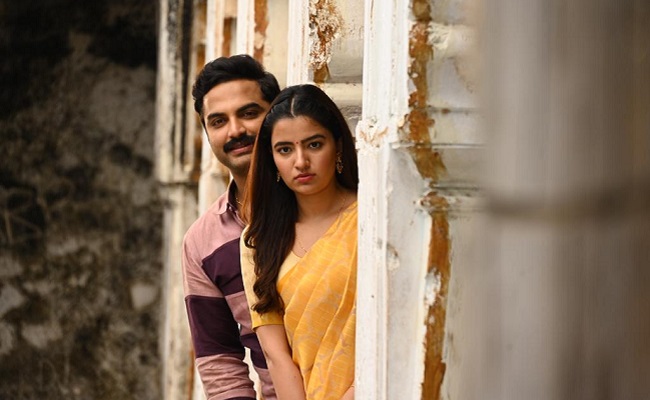 Movie: Ashoka Vanamlo Arjuna Kalyanam
Rating: 2.5/5
Banner: SVCC Digital
Cast: Vishwak Sen, Rukshar Dhillon, Ritika Nayak, Goparaju Ramana and others
Music: Jay Krish
Director of Photography: Pavi K Pavan
Editor: ViplavNyshadam
Producers: Bapineedu B and Sudheer Edara
Directed by: Vidya Sagar Chinta
Release Date: May 06, 2022
Vishwak Sen's recent controversy while promoting 'Ashoka Vanamlo Arjuna Kalyanam' has put the film in focus. The film's songs and trailer received a good response as well. The celebrities praised the film after watching the premiere show. Is the film worth the hype?
Let's find out.
Story:
A day before lockdown, Arjun (Vishwak Sen), who hails from Suryapet, and Madhavi (Rukshar Dhillon) get engaged. Just as Arjun and their family members prepare to leave, the lockdown gets announced and they get stuck in Madhavi's home in East Godavari.
Arjun soon finds that Madhavi is aloof and she seems to be uninterested in getting married to him. But her sister Vasudha (Ritika Nayak) makes things work between them and takes the initiative of messaging her Bava on behalf of her sister, hoping that they get close during Arjun's forced to stay in their home.
A few days later, Madhavi runs away. Why does she elope, and with whom? What will Arjun do stuck in Madhavi's home during the extended lockdown period?
Artistes' Performances:
Quite different from his image of 'Mass Ka Das', Vishwak Sen has played the role of a 33-year-old small-town youngster who is desperate to get married. He appears flabby with a receding hairline as the character demands and carries it convincingly. He does his part well.
Newcomer Ritika Nayak steals the show as her role is central to the plot. The entire second half revolves around her. She is expressive and impressive.
Rukshar Dhillon has nothing much to do. She doesn't get a chance to open her mouth either, for the most part. Goparaju Ramana as Vishwak Sen's uncle and Rajkumar Kasireddy get prominent roles.
Technical Excellence:
The film has striking cinematography in some parts. Music gels well with the film and the viral song 'O Adapilla' stands out. The film has pacing issues (editing).
Highlights:
Vishwak Sen
Newcomer Ritika Nayak's acting
A couple of heart-warming moments
Drawback:
Dead-slow narrative
Middle portion
Lack of novelty
Analysis
After the pandemic, the tastes and habits of movie viewing have changed drastically. The Telugu audiences have become more open to a wide variety of genres and concept-oriented dramas. Stories with simple conflicts and films that focus on daily lives have become a success on OTT platforms. But people have also started demanding films that provide cinematic experience or larger-than-life narratives on the silver screen. The audiences don't want to watch such certain films in the theaters. So, filmmakers should know which kind of narrative works in the theaters, and which doesn't.
Twenty minutes into "Ashoka Vanamlo Arjuna Kalyanam", you would guess that the makers should have released it on OTT platforms instead of the theatres for better results.
"Ashoka Vanamlo Arjuna Kalyanam" is a film that doesn't rely on the 'plot', but dwells on mood, and captures the simple aspects of middle-class or small-town issues. The thin story of the film is set against the backdrop of lockdown and has no room to move beyond that village. It tries to build the mood slowly, lingering on simple moments.
The idea of exploring romance between a reluctant bride and a keen bridegroom is exciting. But the beautiful scenes come in the later portions when the twist comes after the interval. However, the lockdown drama in the bride's home is tiresome. The scenes have hardly anything new to offer.
Vishwak Sen with his energetic performance tries to hold our attention, but the narrative is dead slow. As we have seen in the trailer, the film's major twist is the bridegroom running away at the interval bang. Luckily, the director and writers have stored another twist to run the show in the second half.
The film gets some portions quite well when the second twist appears in the latter portion. The scenes involving Vishwak Sen and newcomer Ritika have been handled well. The hero's frustrations about his age and the pressure to get married are told in a relatable way. Ritika's track has an issue and is very predictable, which has been explored in many films. But the new actress has a beautiful face and holds our attention.
"Ashoka Vanamlo Arjuna Kalyanam" doesn't quite engage us though occasionally it holds our attention. The dead-slow narrative is the major issue with this film. Ravi Kiran Kola of 'Raja Vaaru Rani Gaaru' has written the story, screenplay, and dialogue. Vidya Sagar Chinta has directed the film. But the film has more shades of "Raja Vaaru Raani Gaaru" and it gets dragged on unnecessarily.
All in all, "Ashoka Vanamlo Arjuna Kalyanam" needs patience to be watched in the theaters. It would have been a better experience if it was streamed on OTT. Vishwak Sen's performance and moments involving Ritika are good, but the movie suffers heavily from a sluggish pace.
Bottom line: OTT Romance