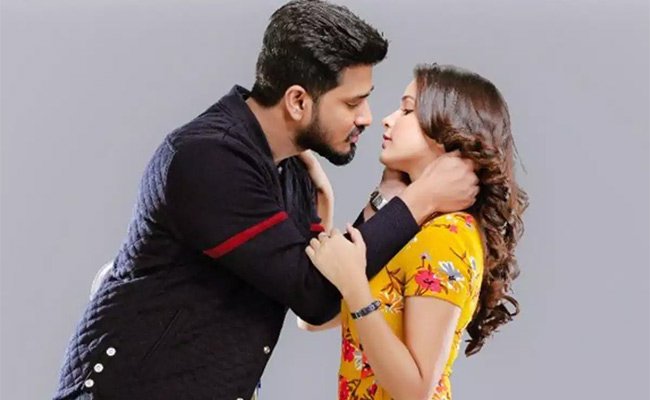 Movie: Arjun Suravaram
Rating: 2.5/5
Banner: Dynamics LLP
Cast: Nikhil Siddharth, Vennela Kishore, Lavanya Tripathi, Posani, Tarun Arora and others
Music: Sam CS
Cinematography: Surya
Editing: Naveen Nooli
Producer: Rajkumar Akella
Written and directed by: T N Santosh
Release date: November 29, 2019
'Arjun Suravaram' was to release a year ago. The much-delayed film finally hit the screens.
Let's find out merits and demerits.
Story:
Arjun Lenin Suravaram (Nikhil Siddharth) works in a news channel TV99. BBC gives him a job as an investigative journalist but the channel finds that his degrees are fake and he gets arrested.
Shocked Arjun comes to know that a forgery certificate racket is operating in Telugu states. He decides to expose them with the help of a constable, a lawyer-friend and his fellow reporter. His girlfriend Kavya (Lavanya Tripathi) also helps him in this mission.
Will he succeed?
Artistes' Performances:
Nikhil Siddharth has done a neat job as a reporter. He is sincere in his effort. Vennela Kishore gets a meaty role as a lawyer.
Lavanya Tripathi as his girlfriend is just okay. Nagineedu as Nikhil's father, Posani as a constable and Tarun Arora as the main villain have done justice to their roles.
Sathya as Nikhil's friend and Vidhyu are there to provide some laughs.
Technical Excellence:
The film has visual beauty and apt technical values. The cinematography is an asset. Editing is racy at some places, and sluggish at other places.
Songs don't get registered and the background score is loud.
Highlights:
Central point
Few Sequences In First Half
Drawback:
Execution
Final portions
Loud background score
Déjà vu feel
Analysis
A remake of a Tamil movie, 'Arjun Suravaram' begins on a slow note. A dull start with the introduction of the hero's characterization, his love story with heroine Lavanya Tripathi and some comedy sequences put off the mood.
Luckily, the film turns interesting when the hero gets arrested for producing a fake certificate. He's innocent and he is determined to put effective use of his investigative skills to find the mastermind of this scam. Then the game begins, much like what we have seen in films like 'Dhruva'.
The drama is effective at the beginning. How this racket works and its mechanism is shown in detail and it has made an engaging watch. Sadly, the drama becomes repetitive post interval. The thrilling narration paves way for predictable clichés.
The episode of the collapse of a school building and the Dubai episode generate interest but when we know the mission of the hero and who the villain is, the narration should be compelling.
The director has taken a safe route filled with formulaic scenes in the second half thereby all the preceding engaging scenes have lost the appeal. This has given déjà vu feel.
Better handling of the final portions would have made a huge difference. The good production design, sincere efforts of Nikhil have made the film watchable.
Despite compelling story line and a decent first half, 'Arjun Suravaram' ends up unexciting thriller because of poor execution.
It is an surely an exciting idea on paper, but the director's imagination couldn't let it go beyond being mediocre.
Bottom-line: Fails To Engage!