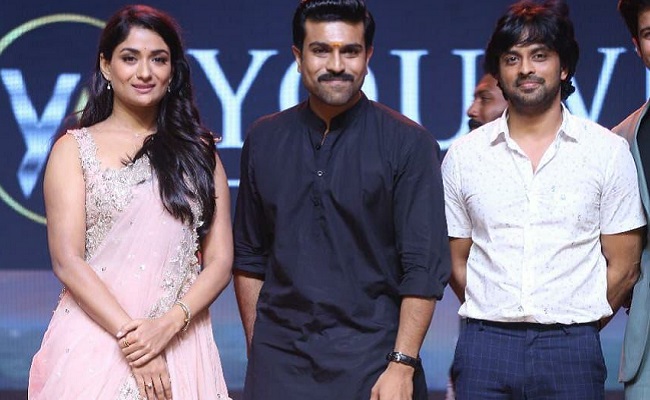 Popular Kuchipudi dancer Sandhya Raju's debut Telugu film Natyam is gearing up for release on 22nd of this month. With Ram Charan gracing as chief guest, the film's pre-release event held today.
Nandini Reddy said, "There needs to be a strong reason to tell a story. Behind this story of Natyam, we can see Sandhya Raju's passion for dance. I feel it will be an eye feast to see a film based on classical dance. I really want to thank Ram Charan for coming forward and encouraging this film."
Swapna Dutt said, "Many industry people are coming forward to support this film, not because she's someone. It's because of her dedication, hard work and absolute passion for her art. I'm looking forward for many more of these things from her."
Prashanth Varma said, "This film is very special one for me. Revanth used to do music videos in USA and I used to do here in India. I became a director because of Shravan. I used to shoot music videos for the music composed by him. I'm a big fan of Sandhya Raju's dance."
Director Revanth Korukonda said, "For me it was a big achievement, when I grabbed first ticket of Indra movie ticket at a theatre in Vizag. Sitting beside megastar Chiranjeevi, showing my film to him and taking his blessings, I can't believe my luck.
I made my first YouTube video 10 years ago. Ram Charan sir watched the video, asked my details and shared them in Facebook. I got a big recognition. I later got an offer to do lyrical video for Khaidi No 150 through DSP. I started getting big movie offers, after that. I like Telugu language, culture and civilization."
Sandhya Raju said, "I like dance a lot. I'm here because many of my gurus who taught me dance. I'm so happy for Ram Charan supporting my film. I'm so indebted to him for all the encouragement for last 10 years. When Kamal accepted to do this role, he doesn't know classical dance. He dedicated almost one year. I used to teach him classical dance 2 to 3 hours every day. Everybody is saying Kamal has done far better than me. I'm really satisfied as a teacher."
Ram Charan said, "We have few super hit films released in last few days. I wish Telugu cinema industry will regain the lost glory. Our family is very close to Sandhya Raju's family. But that's not the reason I came here. I was fortunate to see the movie couple of days ago. I wholeheartedly say, I loved every scene in the movie. I wish Revanth will become a big director. Music is a big asset for the film.
I met Sandhya Raju nearly 10 years ago. I watched her first stage performance here in this same venue. I didn't expect that she would act, produce, design costumes and does choreography for a film. You are going to see girl power in this movie.
When Sandhya Raju came to me asking me to watch the film, I initially thought it would be a serious film. It's not that kind of film. It's a beautifully designed film that will be loved by contemporary audience. Bharatanatyam and classical dance are just one phase."
Click Here for Latest Direct-to-OTT Releases (List Updates Daily)