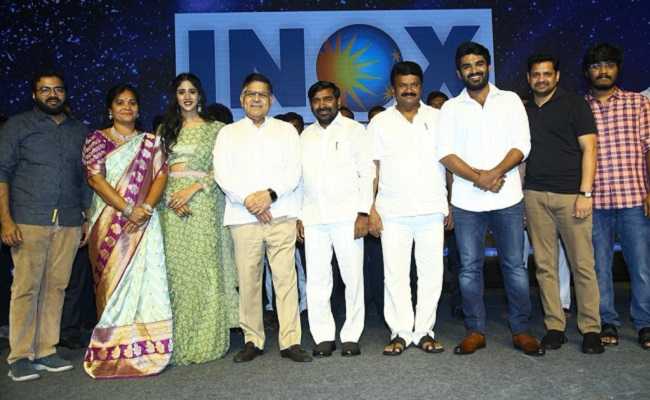 Kiran Abbavaram and Chandini Chowdary starrer rom-com Sammathame directed by Gopinath Reddy is due for release on 24th of this month.
The film's pre-release event was attended by several special guests including Telangana Ministers Talasani Srinivas Yadav, Jagadish Reddy, mega producer Allu Aravind and Bunny Vasu.
Kiran Abbavaram expressed his concern over theatrical business. He requested the audience to encourage movies and experience the joy of movie-watching in cinemas.
"There is always tension before the release of my every movie, since my first movie Raja Vaaru Rani Gaaru. Although the movie received positive talk, it didn't become a commercial hit. I penned story for my second movie SR Kalyana Mandapam and we faced release tensions due to lockdown. Thankfully, the movie became a big hit and it was a game changer for me. I got to work under Geetha Arts banner.
Now, I'm not really worried, ahead the release of Sammathame, because of Allu Aravind garu. Sammathame is definitely a good movie, but the question is will audience come to theatres. Watch my film only if it good. But if you know it is good, watch it only in theaters. Dont wait for OTT release. Let's celebrate movies in theatres."
Allu Aravind revealed how Kiran's late brother used to support the actor in his struggling times and he wished Kiran will have the blessings of his brother.
"Kiran is the reason for we coming forward to release the movie. However, as said by Kiran, we are in a peculiar situation. Every young hero is going through tough times. I'll definitely watch the movie soon. Chandini is a lucky charm. I hope Sammathame will become a hit."