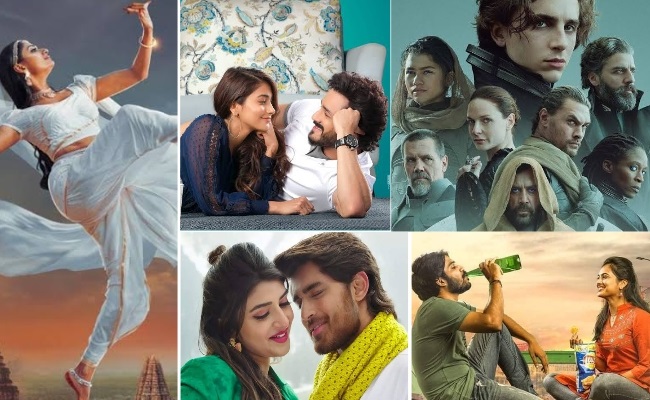 1. Most Eligible Bachelor: Akhil Akkineni scored the first hit despite mixed talk. Pooja Hegde proved that her presence in the film makes a lot of difference with regard to collections.
On a whole the film completed its second week run and now the collections got dwindled but still maintained its position in the top list of the week.
2. Pelli SandaD: Roshan Meka, the son of hero Srikanth scored a hit in spite of 'outdated' talk.
The collections were impressive in the first week especially in the B and C centers. After the end of second week, the collections got down but still made the film sit in the second position.
3. Dune: This is the surprise hit of the week from Hollywood. The cities are seeing good collections in the multiplexes.
This out of the blue release caught the attention of young audiences and the box office rang well this weekend.
This science fiction film is directed by Denis Villeneuve starring Timothi Chalamet and Rebecca Fergusan.
4. Natyam: Released amidst some decent expectations, the film flopped miserably at the box office. It couldn't even turn the heads of the audience and the theatres have recorded meagre collections.
The word of mouth publicity is also not positive and that resulted in the abrupt end of its full run. This classical dance oriented film directed by Revanth Korukonda with Sandhya Raju in the main lead completed its first week run.
5. Madhura Wines: This new release has gone unnoticed and completed its first weekend in the theatres.
Directed by Jaya Kishore with Naveen Kumar Reddy, Sammohit Tumuluri and Sahasra in main leads, the film couldn't pull the attention of much of the audience.
The makers also didn't focus much on its publicity and that made the film fail in pulling the crowds to theatres.