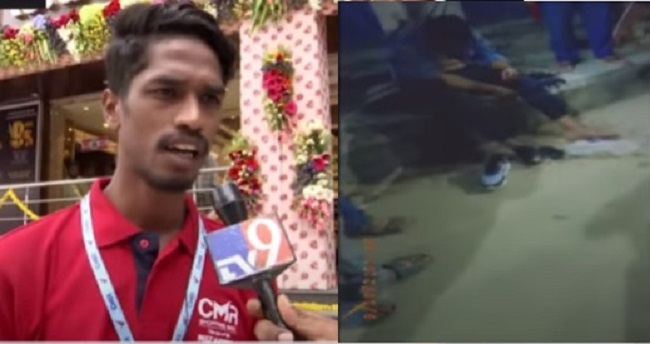 It is known that Sai Dharam Tej met with road accident on 10th September at 8 PM. The CCTV footage of the same was also seen by many.
It was clearly evident that many people are passing by the road without paying much attention after Sai Dharam fell down. But who called the 108? Who brought him on to the pavement and offered him water?
Who has shown such humanity and social responsibility. Nobody bothered to know about him so far. Finally TV9 brought the news to light.
It was Abdul, a worker in CMR shopping mall who has noticed a man falling down from the bike. He rushed to rescue him along with is friend Atif who was with him.
He was lifted safely to the pavement. Atif offered him the water. Both of them didn't know that he was a film hero.
Abdul called 108 which was arrived in 10 minutes. Then the ambulance crew took care of the person. They wiped the blood stains on his face and discovered that he was Sai Dharam Tej. As the ambulance moved Abdul returned to his home.
After a while the Raidurgam Police called Abdul to appreciate him for his social responsible job. The police extended their honor to him over the phone. They asked for his photograph to release to media.
As per the reports and the words of Abdul nobody from the mega family called him till now.