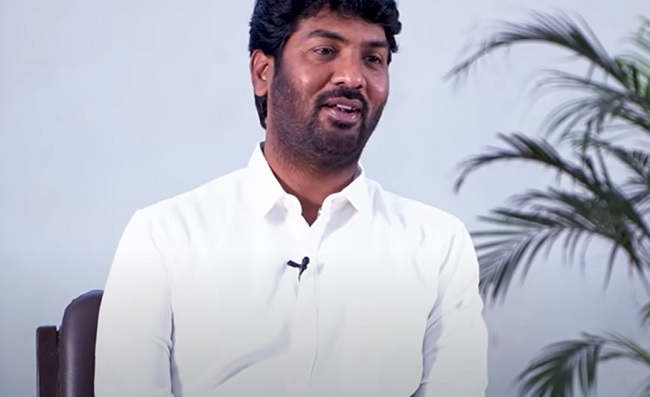 Made a blockbuster debut as director with Soggade Chinni Nayana, Kalyan Krishna delivered another hit with his second movie Rarandoi Veduka Chuddam. Bangarraju marks his second film with both Nagarjuna and Naga Chaitanya.
Ahead of the film's release, Kalyan Krishna in his exclusive interview with us says Soggade Chinni Nayana is the only competition for Bangarraju.
"We knew that there will be at least 3 to 4 big movies release for Sankranthi. We didn't know that RRR and Radhe Shyam would come for the festival. We anyhow would have released our movie for Sankranthi. We indeed feel Soggade as the real competition for Bangarraju."
The director informs there was proper planning behind the team completeing all the works within the team and releasing it for Sankranthi.
"We shot 32 mins of CG part first, as there won't be any postponement due to delay in post-production works."
He says Bangarraju is the second half of a movie, while Soggade is a first half, if we consider both the movies as one. The sequel starts exactly from where the prequel ended."
Kalyan makes it clear saying both Nag and Chay did the role of Bangarraju in their own styles. "Both the characters look different due to their different body language and generation gap between them."
The director's previous film Nela Ticket was a disaster.
"I learnt a lots of lessons from the mistakes which helped me in making Bangarraju."
The film has a total of 6 songs and 5 action sequences. Kalyan clarifies nothing in the movie looks forcible.
Revealing the basic plotline of the movie, he says, "The film is about how grandfather and grandson together save the family, village and temple."
He informs, apart from Nag and Chay, entertainment, songs, dances and action are the major attractions of the movie.
Kalyan says they considered Krithi Shetty for the role, 8 months before the release of Uppena.
"Krithi's working style is different. She does lots of homework on her character. She studies about in and out about her character."
The director clarifies on the old rumours of Soggade meant for Chiranjeevi.
"First of all, the storyline wasn't mine. We never had plans of making the film with Chiranjeevi garu. However, I initially tried to make films with mega heroes. But things didn't materialize."
Kalyan Krishna affirms he's not interested in politics, though he supports his brother and AP Minister Kurasala Kannababu.
Reacting on ticket rates in AP, he says, "I'm very young to talk about it. It's elders who'll decide what's right and what's wrong. I hope, the problem will be resolved at the earliest. I'll be more than happy, if it resolves ahead of the release of Bangarraju."
Kalyan Krishna once again affirms Bangarraju is an ideal festival movie. "The audience wish to watch an out and out entertainer for Sankranthi. So, we always wanted to release it for the festival."