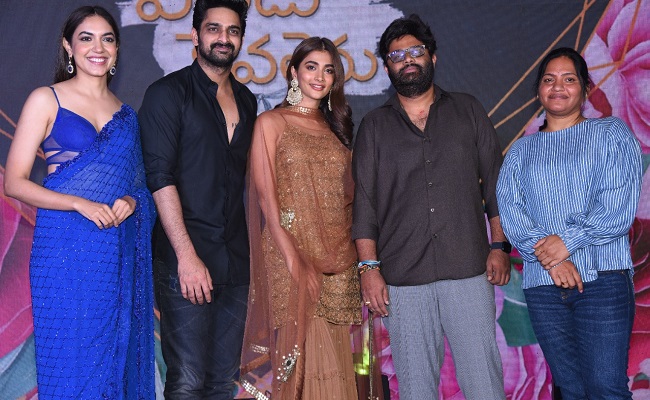 Naga Shaurya and Ritu Varma starrer wholesome family entertainer Varudu Kaavalenu will be gracing the theatres on 29th of this month. Sangeeth event of the movie held today and Pooja Hegde was the chief guest.
Ritu Varma said, "I feel honor for getting opportunity to do the film. I will look at Lakshmi Sowjanya as a director, and I don't like to call her as a female director. I'm so happy and proud of her for making debut with this film. Actually, Naga Shaurya helped me complete my performance."
Naga Shaurya said, "We are very confident about the film. Like how proudly we say ours is a good family, I proudly say that, Varudu Kaavalenu has come out well. This is my movie. Due to OTT revolution, there is no piracy. Varudu Kaavalenu will not come soon on OTT. So, watch the film only in theatres.
Despite receiving huge OTT deals, my producers waited to release the movie in theatres. Lakshmi Sowjanya's hard work will be paid off. My producer Naga Vamsi is very passionate about films. He is a wonderful human being. Pooja Hegde is like a family member for the producers, as she was part of few films under the banner."
Pooja Hegde said, "I first have to thank Vamsi for inviting me. I think, like you know, it's a rare for a girl to be invited for such events. They built such a prestigious banner Haarika and Haasine and I hope that Naga Vamsi also get all the fame and name for his films under Sithara Entertainments. I feel nice people should do well and prosper. I have got all the respect because of the films I've done with them. They have treated me like a family.
In this industry, there are very rare female directors. I feel like, only a women can tell a woman story in a beautiful way. I hope that Sowjanya will become very successful. I hope, I will get invited for the success party. There's something very nice about Naga Shaurya who looks very innocent. He has got no big support in the industry and I must say he's a self-made actor. I know, Ritu Varma is a good performer."