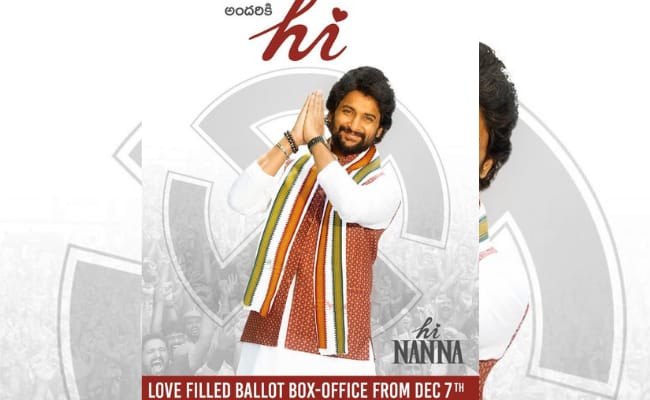 Hero Nani has been hectic with the promotions of his upcoming Pan India film Hi Nanna which is scheduled for release on December 7th.
The teaser and three songs released so far by the makers created excitement for the project directed by debutant Shouryuv under Vyra Entertainments.
Meanwhile, a picture featuring Nani is circulating on social media platforms. Interestingly, Nani appears in a politician avatar.
The poster sees Nani with a smile on his face raising hands to greet his people with the symbol of a political party in the background. His get-up is perfect as a politician.
"The new politician in town," reads the poster. This seems to be part of the promotion of Hi Nanna, as the party name is Hi Nanna. The content related to the same will be unveiled soon.
Using the political heat with elections in the corner, Nani and team Hi Nanna have come up with new strategies to promote Hi Nanna.
"Since it's all elections mood around. Why not join the madness :) December 7th మీ ప్రేమ మరియు vote మాకే అవ్వాలని ;) Mee #HiNanna party president Viraj 🤗 ( few fun campaigning specials will follow )" clarified Nani.
The film's theatrical trailer will also be launched in a few days.