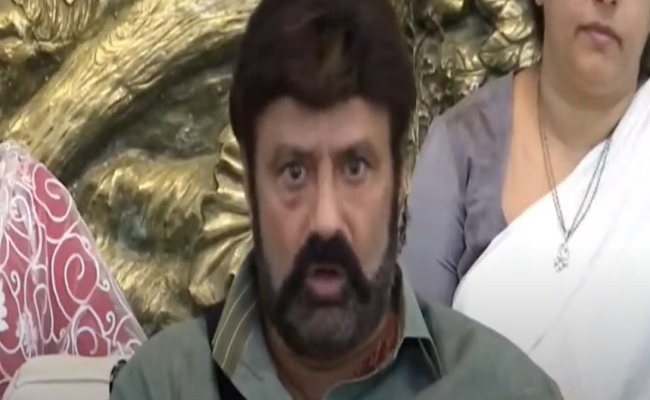 In a rare display of solidarity, the entire family of Telugu Desam Party founder and former chief minister N T Rama Rao on Saturday rallied behind party president and former Andhra Pradesh chief minister N Chandrababu Naidu.
The Nandamuri family, led by senior actor and TDP legislator from Hindupur N Balakrishna, held a press conference at his residence and lashed out at the YSR Congress party leaders for allegedly making foul remarks against Naidu's wife and NTR's daughter Nara Bhuvaneshwari on the floor of the assembly.
Balakrishna said the YSRC legislators had crossed all the limits of decently by attacking Naidu and using filthy language against Bhuvaneshwari.
"It is very unfortunate that they had stooped to such a low level. Naidu is a man of courage and such a person had to burst into tears, which only shows how much he was pained at the developments," he said.
Stating that it was common for the ruling and opposition parties indulge in criticism and counter-criticism, Balakrishna said it should be confined only to issues.
"But these MLAs have stooped down to making personal attacks and character assassination of our leader. It is not correct on their part to make comments against my sister," he said.
He warned that the Nandamuri family would not keep quiet if the YSRC leaders continued to make such nasty comments.
"They should change. Otherwise, we know how to bend their necks. We shall see how they would save themselves. Even if they make use of the police and other systems, they cannot escape," he said.
He said Bhunaveshwari was never involved in politics and she was always engaged in social service.
"Women in your own families are hating you for your utterances. It is unfortunate that even the Speaker could not control them," he said.
Alleging that the YSRC leaders were indulging in mind games to demoralise the TDP leaders and cadres, Balakrishna said power was not permanent for them.
"Today, you might be in power, but tomorrow, it might be our turn. We shall not keep quiet. We don't even need to take permission from Naidu to launch a counter attack," he warned.
Balakrishna's elder sister Lokeshwari also found fault with the YSRC leaders for targeting Naidu and his wife.
"We are very much disturbed to see Chandrababu Naidu weeping. We, too, have NTR's blood in us. If they cross their limits again, we know how to retaliate," she warned.
NTR's younger son Nandamuri Ramakrishna also was in tears while condemning the attack on Naidu.
"You are going to see the other side of NTR's family members, if this repeats again," he said.
Interestingly, BJP national general secretary and Naidu's bitter rival Daggubati Purandeshwari also criticised the YSRC for alleged foul-mouthing of her sister and Naidu's wife Bhuvaneshwari.
"We have grown up in a family with values," she said.