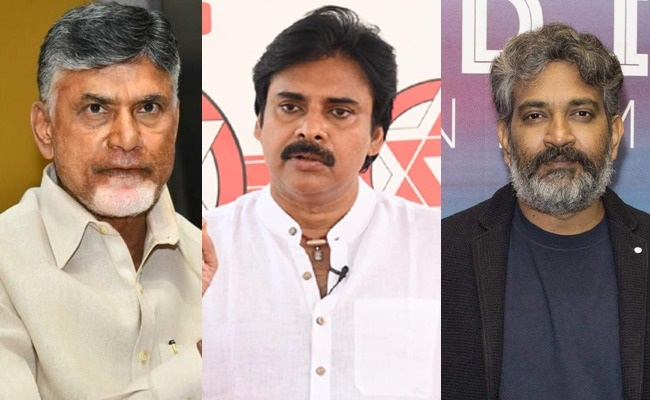 The date for the release of "RRR," the magnum opus of director S S Rajamouli, has been fixed. Hitherto, whenever Rajamouli's films were released, other film makers used to drop their plans to release their films, may be out of respect or fear.
But now, the situation is different. Along with RRR, two other films – Bheemla Nayak of Pawan Kalyan and Radhe Shyam of Prabhas – are also up for release almost simultaneously.
Against this backdrop, tension is building up in the RRR team. Already, the Jagan government is firm on implementing the reduced ticket prices in theatres.
It will result in foregoing at least 18 per cent of the revenue from ticket sales – which means, the team is anticipating a loss of at least Rs 25 crore much before the release of the film in Andhra and Ceded areas.
Under these circumstances, if there is a tough competition from other films, what would be the fate of RRR?
Though there were reports that the film distributors would move the court against reduction of cinema ticket rates, they issued urgent statements denying such reports, after realising that it would only complicate the situation and lead to a confrontation with the government.
Now, the RRR film makers are trying all options to overcome the crisis. They have reportedly sought an appointment with Pawan Kalyan to convince him to delay the release of his film Bheemla Nayak by a few days, but so far they haven't got any appointment.
Highly placed sources said the RRR film makers have come out with an idea which they feel would work out effectively. The idea is to rope in Telugu Desam Party president and former chief minister N Chandrababu Naidu.
Everybody knows Rajamouli has close relations with Chandrababu Naidu. He even helped Naidu by providing some designs for Amaravati capital city in the past. There is a talk that Pawan Kalyan might not listen to anybody, but he would definitely oblige the requests of Naidu.
So, Rajamouli and his team would take the help of Naidu to convince Pawan Kalyan to defer the release of his film Bheemla Nayak. It is learnt Rajamouli has already consulted Naidu and making efforts in that direction, sources said.
"If Rajamouli makes a request, Naidu will not say no. And if Naidu makes a request, Pawan Kalyan also will not say no," sources added.
Click Here for Latest Direct-to-OTT Releases (List Updates Daily)