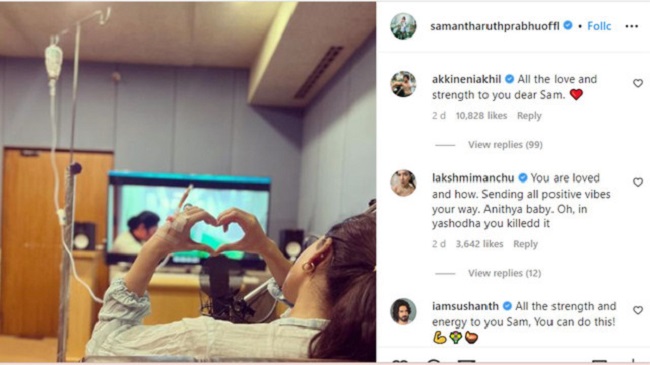 Samantha was seen in delight and bliss with close knitted relations within her family as soon as she got married to Naga Chaitanya.
Her ex father-in-law Nagarjuna also welcomed Samantha into his family with all love and affection which was publicly projected.
Eventually, Naga Chaitanya and Samantah got separated after an emotional turmoil.
The latest update is about Samantha's ill health which has become the topic in the entire film industry.
Many expected the response from Naga Chaitanya on social media but nothing of that sort has happened.
While the entire film industry is pouring wishes of recovery for her, Nagarjuna's family has been silent till yesterday.
Freshly Akhil Akkineni mentioned- "All the love and strength to you dear Sam."
Well, is this a planned thing? Did Nagarjuna tell Akhil to tweet on behalf of the entire family? If yes, that's not something ideal.
The celebrities like Nagarjuna may have personal lives but when it comes to their reactions on public platforms, they need to stand as role models.
The girl who walked into his family in the recent past is suffering from a serious ailment now.
The world expects the response from Nagarjuna, being the head of her ex-family. He needs to respond publicly. The world has changed.
Even after the divorce the pairs remain good friends. Naga Chaitanya seems to be in old school and so is Nagarjuna.
Samyuktha Dantuluri