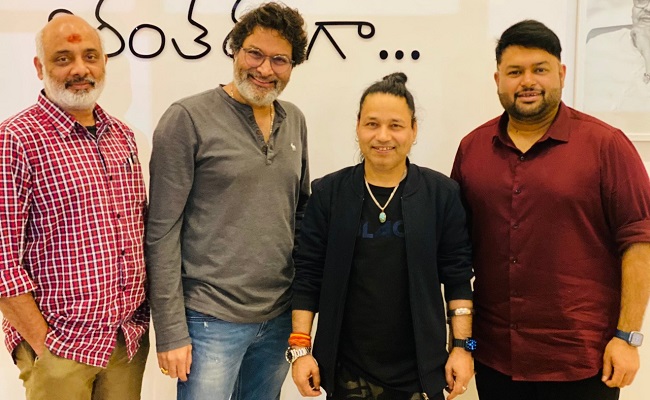 Top director Trivikram began his career as a writer. He gained popularity as a writer quickly.
However, there were times he felt he was not getting enough credit for his talent and hard work. Thus he stopped writing dialogues and stories for other directors and took film direction.
Now that he has become one of the top directors in India, he is making the same mistake. He is hogging all the limelight pushing young director Saagar Chandra behind curtains.
Saagar Chandra is the director of Pawan Kalyan's "Bheemla Nayak". But we see only Trivikram's face everywhere about this movie as if he were the 'official' or unofficial director.
Trivikram is penning the dialogue and screenplay for this film. Now, every decision-making about the film is being done by Trivikram himself.
Music director Thaman has shared an image of the latest song recording. Popular singer Khailesh Kher crooned the number. Thaman, Khailesh Kher, lyricist Ramajogaiah Sastry, and Trivikram can be seen in the photo.
Where is Saagar Chandra in the whole setup?
The project was arranged by Trivikram. He convinced Pawan Kalyan to do the film. He wrote the dialogues and was also involved in music sessions. He was also present on the sets during the filming process.
So, is Saagar Chandra's presence just for the sake of the name? If the film becomes a blockbuster, who will take the credit?