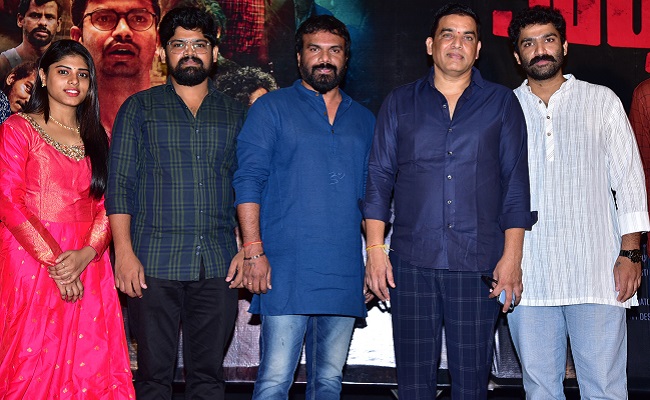 The intriguing trailer of Rakshasa Kavyam, an upcoming indie action drama was unveiled today. Ace producer Dilraju garu launched the film's trailer today and was all praises for the team. He called the trailer a unique one.
He said, "It looks like the film is made considering the generation changes. The makers came up with the new approach and quality filmmaking is evident in every frame."
The trailer starts off with a mother's great words about education. It introduced introduces us to the ensemble of characters in the film.
We see the film take place in two eras, one in the late 80s, where we see cut-outs of Nagarjuna from Shiva and the 00s, as presumably evidenced by the actors in the film talking about filmmaking and Pokiri.
The film has action and rural mass flavour while conveying a great message. Abhai Naveen makes a solid presence and he has high aim to educate his basthi.
The production values looks great and background score just elevates every scene. The film's trailer also contains some profanity, in addition to graphic action sequences.
Rakshasa Kavyam is produced by Damu Reddy and Singanamala Kalyan under the banners Garuda Productions, Cinevalley Movies and Pingo Pictures.
Umesh Chikku is the executive producer, with Naveen Reddy and Vasundhara Devi co-producing the film.
The film is written and directed by Sriman Keerthi. Rakshasa Kavyam stars Abhai Naveen, Anvesh Michael, Dayanand Reddy, Pawon Ramesh, Rohini Aretty Kushalini and Yadama Raju, among others.
Rushi Konapuram is the cinematographer of the film and his visuals looks great, with music by Rajeev Raj and Srikanth M.