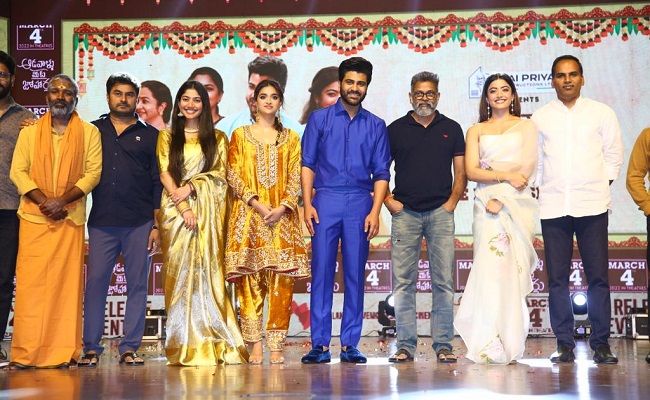 Sharwanand and Rashmika Mandanna starrer wholesome family entertainer Aadavallu Meeku Johaarlu will hit the cinemas on March 4th.
The film's pre-release event that was attended by director Sukumar, heroines Sai Pallavi, Keerthy Suresh was a huge success with huge turnout for the same.
Khushbu heaped praises on Sharwanand for accepting the film that gives importance to women and then she revealed she did the movie as not to miss the opportunity to work with Rashmika.
Sukumar called Sai Pallavi as lady Pawan Kalyan for the kind reception from the spectators. He also praised her for rejecting a TV commercial.
"Rashmika is an amazing actress and beautiful soul. Keerthy, take a bow, you're a national-award winner.
Devi calls to inform me, if he likes any movie. I like his judgement. One thing he said after watching the movie, 'Darling, this movie is superb'. Kishore is a very sensitive person. I like him so much.
I'm a very big fan of Sharwanand. He appeared in serious roles in his last two movies. Finally, I got to see him smile, in this movie."
Keerthy Suresh stated that it's easy to find Kishore's movies, even though his name is not there.
"He has that special skill in writing. I don't have to say how bigger talent and popular Rashmika is. I'm meeting Sharwa for the first time. My johaarlu to the entire cast and crew of the film."
Sai Pallavi said that the producers became family, after Padi Padi Leche Manasu.
"They made sure I make right choices. I knew from the day first look poster was released that, there vibes are positive around it. Sharwa is like a friend to me. He's like a child who wishes to perform better in every film.
I hope he retains this child in him forever, that is what will push him to do even bigger thing. The trailer was so heart-warming. I had smile all through. DSP, your music is going to add a separate soul for the film. Rashmika has one of the enduring smiles I've ever seen."
Tirumala Kishore said he can't forget the event forever. He also disclosed a secret of how he made the three veteran actresses accepting to do the movie.
Rashmika Mandanna said, "An entertaining film is coming during this Covid time. I too felt bored and I too want to watch a perfect entertainer. I thank Kishore for giving me this opportunity. DSP has given such a wonderful music. I love Sujith's camera work.
Sharwa is one of the sweetest boys I've ever met. I'm always playful on sets. Sharwa doesn't irritate and he always tolerate. Sharwa, I will torture you more in our next film, so get ready. Our film is literally- Aadavallu Meeku Johaarlu. Sai Pallavi and Keerthy Suresh made the function little brighter."
Sharwanand said, "I'm a big fan of Sukumar who came to wish us. Keerthy, I'm great fan of your work. Sai Pallavi, it's far less whatever I tell about you. I don't see her as a star. We connect to her because she speaks from her heart. She's a good friend of mine. Devi Sri Prasad gave life to the film with his music. He promised to give blockbuster album 15 years ago.
I got to work with so many great actors. The main reason for me to accept this film is my friend and producer Sudhakar. I can strongly say that this will become best film in my career. Whatever the strengths of mine that you missed all these days, you will definitely have them in this film.
Rashmika is a wonderful person. She always smiles and I'm really happy to work with her. Although she attained lots of stardom, she's down to earth. You will come out of theatres with a smile on your faces."