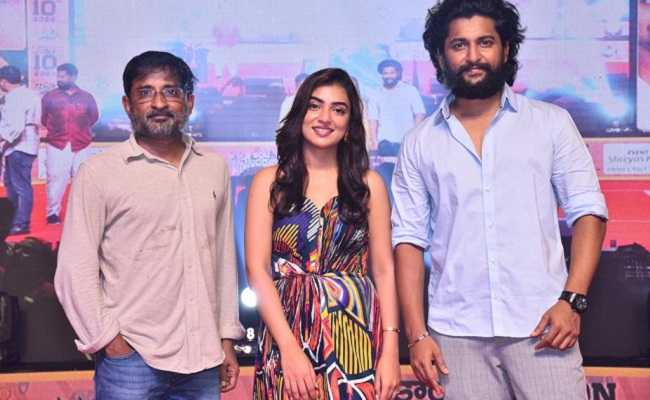 Nani's different rom-com Ante Sundaraniki is due for release on 10th of this month. The film's theatrical trailer was released yesterday to thumping response.
The trailer event was held in Vizag and Nani seemed pretty confident about the movie becoming a commercial hit.
"Vizag is my mother-in-law's house. Your son-in-law has come to Vizag. Usually, when son-in-law comes, he will be treated with a dinner party. But son-in-law will be giving big party on June 10th. Generally, we say, we made a good film and you need to make it a blockbuster. But, this time, we say, we made a blockbuster and you needed to take it to another level.
You have watched enough action this year. The audience have been waiting keenly for humor and emotional movies. You'll get adequate humor and emotions in Ante. I'll always be indebted to Vizag audience who owned me like their family member. You'll enjoy every scene in the movie. I wish to do much better and bigger movie with my next in Mythri banner. You can't imagine any actor other than Nazriya in the role of Leela."
Nazriya expressed her happiness for doing her first Telugu film, dubbing for it and visiting Vizag.
"Without Mythri Movie Makers my journey wouldn't have been this great. It's a wonderful experience to work with Vivek Athreya. My special thanks to Nani. This journey wouldn't have been memorable without Nani. Let's all meet in theatres on June 10th."
Producer Ravi Shankar said Nani showed his vishwaroopam with his performance. We started this season with Bheemla Nayak and it ends with Ante Sundaraniki, before schools and colleges re-open. Nazriya's husband Fahadh Faasil was introduced with Pushpa. Now, we're happy to introduce Nazriya to Telugu audience with Ante Sundaraniki."