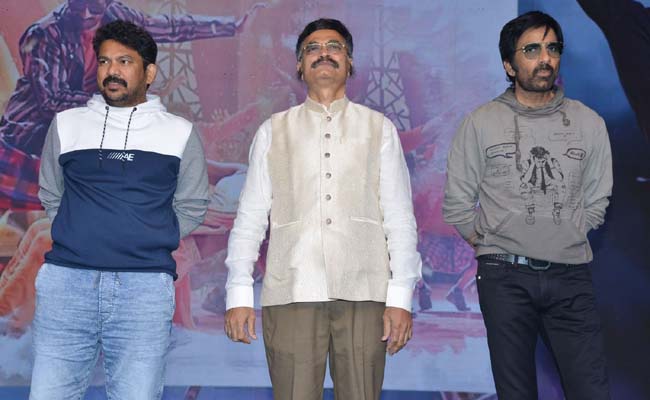 Something has happened between Ravi Teja and 'Khiladi' director Ramesh Varma. Though some gossip is heard on this topic in the last ten days, nothing has been confirmed.
But today, Ravi Teja's words in the pre release event of the film raised many eyes brows as something was read between his lines.
He said that Ramesh Varma is a highly fortunate director for getting a producer like Koneru Satyanarayana who gave him all the resources to make a film along with a car as a gift.
A sound of satire is heard in his expression.
Talking about producer Satyanarayana, he said in a a satirical tone, "I demand that you should look after everything is person while making the film. You will learn a lot by doing so".
Ravi Teja also made it clear that he okayed the project only after listening to Srikanth Vissa's story and considering his relation with Koneru Satyanarayana but nothing else. He thanked Ramesh Varma for introducing only Srikanth Vissa to him.
So through out his speech Ravi Teja made sure that Ramesh Varma shouldn't get any credit. No one knows what had happened between the two but this has lead to many speculations.
Due to an intentional delay in dubbing of the film the premiers in overseas were cancelled.
We have to see how this works at the theatres in India.