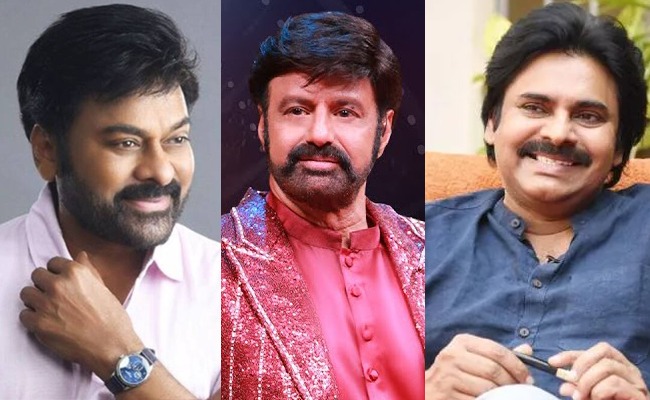 The second season of popular talk show on Aha over-the-top (OTT) platform – Unstoppable with NBK – to be hosted by senior actor and Telugu Desam Party legislator Nandamuri Balakrishna is all set to begin on Friday.
The first episode of the season 2 featuring TDP president and former chief minister of Andhra Pradesh N Chandrababu Naidu and his son Nara Lokesh has already created enough buzz in the media, with the release of promo on television channels.
So far so good, but according to sources, the organisers of the talk show are said to be struggling to find interesting celebrities to be the guests to be grilled by Balakrishna, despite the latter's popularity and the interest it is generating in the audiences.
While some celebrities are not showing interest in being featured with Balakrishna, some others are being rejected by Balakrishna himself, apart from director-script writer of the show B V S Ravi and producer – Allu Aravind.
Sources said Aravind is interested in bringing his brother-in-law and megastar Chiranjeevi to the Unstoppable with NBK show, as it would naturally bring massive viewership. Since the megastar has just given a hit to the silver screen with his latest film Godfather, it would definitely bring huge mileage to the show.
However, sources said, Chiranjeevi is not interested in coming to the talk show, as it doesn't want to be grilled by Balakrishna, who is also a senior actor. Though Aravind tried to convince him, he did not accept it.
But there is another version to this episode. That is, Balakrishna himself is not keen on interviewing Chiranjeevi as he thinks it will lower his prestige. In fact, director Ravi also showed interest in bringing Chiranjeevi to the show, but Balakrishna said a firm no.
Alternatively, Balakrishna is interested in featuring another mega brother Pawan Kalyan, along with senior writer Trivikram. But this time, Pawan Kalyan also refused to come to the show. Trivikram, too, is not keen on attending the same.
Sources said Jr NTR has no objection to be part of the talk show, but Balakrishna reportedly said "not immediately." So, it is also put off.
Now, there are hardly any takers among the big celebrities for the show, at present!