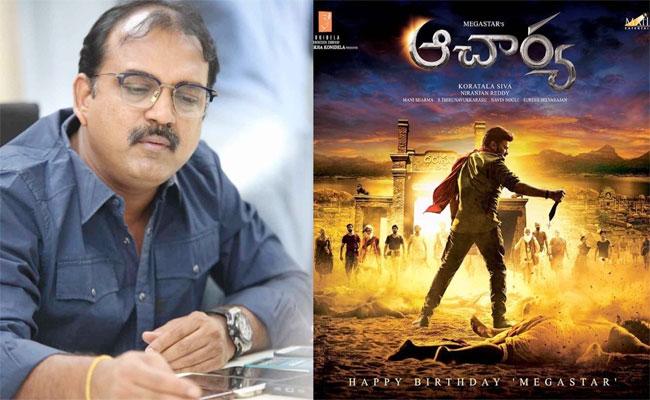 Director Koratala Shiva shouldered the entire responsibility of 'Acharya' business as per the agreement made with producer Niranjan Reddy. Greatandhra shared this fact a long time back.
It was said that the producer Niranjan Reddy left the profit and loss account to Koratala keeping only Rs 5 Cr as his part of profit. It was also revealed that projecting Konidela Banner is only for projection sake.
But after the result of the film it is said that producer Niranjan Reddy sacrificed his Rs 5 Cr profit and also came forward to shoulder the GST payments of buyers which is up to the tune of Rs 10 Cr.
Apart from that, the rest of all kinds of losses have to be borne by Koratala Shiva now.
Let us see the size of losses.
Koratala has been in discussion with his friends from the last two days regarding the losses. He said that he is in the process of unloading the burden from his shoulders as soon as possible for which he needs to pay back at least Rs 30 Cr.
He has to look into the collected theatre advances in the areas of Krishna, Guntur and Vizag which were distributed by his friend Sudhakar. Heavy deficits are seen in Naizam and Ceded regions.
Estimates say that Koratala agreed to pay back Rs 13 Cr to Naizam distributor Warangal Srinu.
A Rs 6 Cr for East, West and Nellore distributors is on the list to be paid by Koratala. He is also agreed to pay around Rs 5 Cr to Ceded, Rs 2 Cr to Karnataka and Rs 1 Cr to overseas distributors as per the promise he made to them.
Totalling all the figures it is crossing Rs 30 Cr. From where Koratala can bring this money?
So far Mega Star took an advance remuneration of Rs 10 Cr and Ram Charan didn't take even a penny. Koratala spent around Rs 6.5 Cr in the last four years towards his own expenses.
As per sources, before going into his next project with NTR, director Koratala Shiva is anyway ready to pay everything as stated above, taking the complete responsibility.