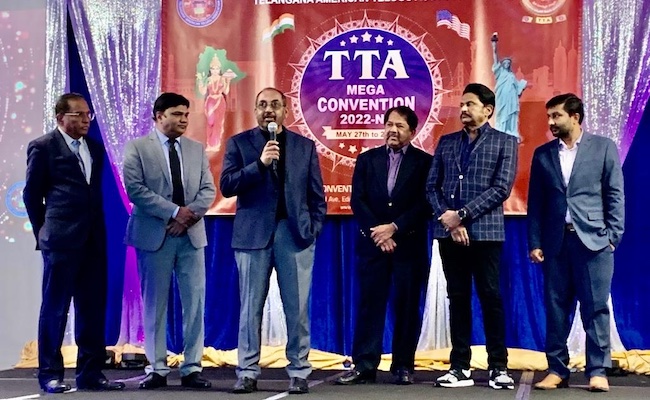 Telangana American Telugu Association (T.T.A.) - New Jersey team organized a TTA-Mega Convention kick off and fund raiser dinner in NJ on Saturday, Nov 13,2021 from 6.00 pm to 11.00 pm at Sheraton Edison 125 Raritan Center Pkwy, Edison, NJ 08837, nearly 300 people attended the event and raised $472K in New Jersey.
The TTA Mega convention is planned between May 27 - May 29,2022 (Memorial Day weekend) at NJ Expo center in NJ. For more details, please visit www.ttaconvention.org.
The event is organized by New Jersey team under the guidance of Dr. Pailla Malla Reddy (Founder), Dr.Vijaypal Reddy (AC Chair), Dr. Haranath Policherla (AC-Co-Chair). The event was planned & executed under the leadership of Dr. Mohan Reddy Patalolla, President & Srinivas Ganagoni, Convener with the energetic team consists of Gangadhar Vuppala (Coordinator & BOD), Satish Mekala (BOD), Shiva Reddy (BOD), Kiran Duggagi (BOD), Narender Reddy (RVP), Narsimha Peruka (RVP), Deepa Jalagam (WC), Sudhakar Uppala (SC), Roopak (SC), Sandhya Casula (WC), Srinivas Burra (RC), Sai Gunduru (RC) and the convention NJ team Damu Gedala (CRA), Santhosh Pathuri (CRA), Swathi Atluri, Ram Mohan Chinnala, Mahender Narala, Usha Chinta, Vijay Bhasker Kalal, Venkat Sunki Reddy, Ravi Kamarasu, Praveen Guduru, Gopi Vutkuri and many others who supported the event and made a grand success.
The event started with traditional Jyothi Prajwalanam by founder Dr. Malla Reddy Garu, Vijaypal Reddy Garu, Dr. Harnath Pulicharla Garu, President, Convener and EC members Vamshi Reddy (President Elect), Suresh Venkannagri (EVP), Srinivas Mannapragada (GS), Pavan Ravva (Treasurer), Madhavi Soleti (Ethics), LN Reddy (Media) and many BODs, SC, RVPs and RCs from NY, PY and DE attended the event.
The classical dances from various local dance schools and the local professional singers enthralled the audience with their performances.
Srilakshim Kulakarni emceed the event within her own style and made the event a grand success.
All the reps from TANA, ATA, NATA, NATS, TFAS, TDF, and other local organizations attended the event and pledged amounts to support the TTA Mega convention 2022 in NJ.
The feedback was simply superb! The attendees noticed that flawless execution of the event with elite people attending the event. The support came from across all parts of the community raised more than $472K it was a great moment for a TTA team.
The President and Convener thanked everyone who made this Kick off and Fundraising evening grand success and planning to fundraising events in rest of country in coming months.
Visit: https://www.ttaconvention.org/
Content produced by Indian Clicks, LLC