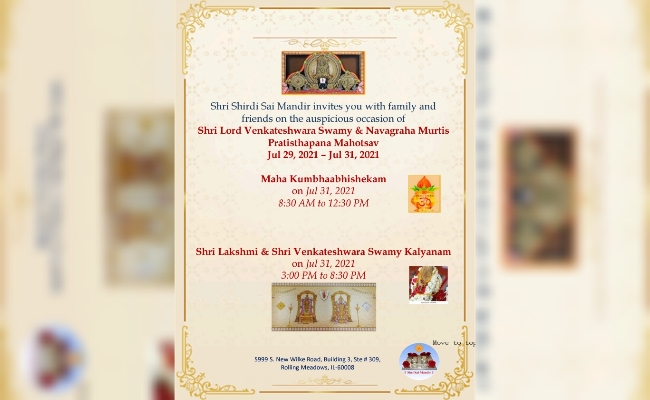 Dwarkamai Inc is a recognized non-profit, tax-exempt organization under IRS code section 501(c)(3) of USA. Dwarkamai is dedicated to organizing events and conducting activities directed towards personal spiritual development of the community based on Shirdi Sai philosophy. We follow the teachings of Shri Sainath, a saint from Shirdi, India that imparts spiritual progress in life.
The Guiding Principle behind opening Dwarkamai's "Centers of Spiritual Excellence" was to take the worship center closer to devotee's homes based on request from devotees in an area rather than make devotees drive for hours to visit a worship center.
The same principle has brought us to the Northwest suburbs of Chicago, IL where a group of 60 devotee families felt the need for a worship center nearby and requested Dwarkamai to open a Spiritual Center on the lines of those started in Massachusetts.
Under the guidance of our mentor, Shri Anil Naik, Support from the members of the community who wished to have a location in the Northwest suburbs and a Landlord willing to go the extra mile, to make this wish become a reality it has been an eventful journey.
Dwarkamai's newest "Center of Spiritual Excellence", Shri Shirdi Sai Mandir, Rolling Meadows, IL opened its doors to the community on Dusherra Day, Oct 25, 2020 and has been providing volunteer driven services to the community since then.
Shri Shirdi Sai Mandir now welcomes the community to participate in a once in a lifetime event: Shri Venkateswara and Navagraha Praana Prathistha Mahotsavam- July 2021
Program Highlights include:
July 4 - 10:00 AM - 12:00 PM - Jaladhivasam
July 15 - 6:30 PM -8:30 PM - Dhanyadhivasam
July 29 - 8:30 AM - 12:30 PM - Shri Ganesh Pooja; 5:30 PM - 8:30 PM - Shri MahaLakshmi Pooja
July 30- 8:30 AM - 12:30 PM - Vaastu Pooja & Pushpadhivasam; 5:30 PM - 8:30 PM - Shri Venkateswara Netromilanam & Navaratna-Bimba Sthapana
July 31 - 8:30 AM - 12:30 PM - Shri Venkateswara Praana – Pratishtha; 3:00 PM - 8:30 PM - Shri Venkateswara & Shri Mahalakshmi Kalyanam
For program details and sponsorship opportunities, please visit:
https://shrishirdisaimandir.com/index.php/sponsor
Om Namo Venkatesaya!!
Shri Shirdi Sai Mandir, 5999 S New Wilke Rd, Building # 3, Suite 309, Rolling Meadows, IL 60008 Phone: 630-216-9724 (630-21-MYSAI); email: mailbox@shrishirdisaimandir.com
Click Here for Latest Direct-to-OTT Releases (List Updates Daily)