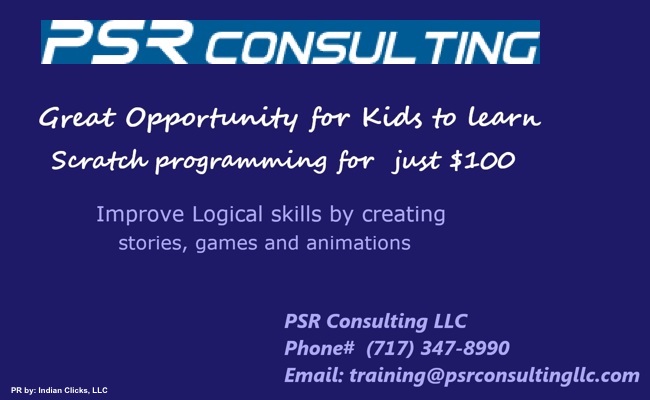 PSR Consulting LLC is excited to announce the coding sessions for School children of ages 10 or above for the Fee of $100. This is only limited time offer.
Due to the Pandemic, most of the school children are limiting the out-door activities and looking for the remote learning opportunities.
Due to ongoing demand and as parents are excited to make their children learn the Programing skills and improve their logical thinking with the fun-way of learning, we are introducing the special training sessions for the school children who are at-least 10 years or above age.
If your child is 10 years or above and has the basic knowledge of using computer keyboard and mouse, it is not too early to start learning the coding skills.
List of courses that are offered by PSR Consulting LLC for the school children includes:
Scratch Programing for Kids ($100): Enhance the logical thinking of the children by introducing the fun way of learning the scratch programming. Students will develop at-least 2 Gaming projects by the end of the course
Python programming for High school students ($100): Students will learn the basic programming skills using Python. Using variables, control statements, loops, functions and various python libraries
HTML Programming ($100): Students will learn the basic web designing skills using various HTML tags, using CSS and Basic JavaScript
For more information, please call us at ‪(717) 347-8990 or email us at training@psrconsultingllc.com
We are planning to schedule the Free Introduction and demo session on Scratch Programming. If you want your child to be part of the demo session, please send email to pavani@psrconsultingllc.com
You may visit http://psrconsultingllc.com/training.html for more details.
For the college students and experienced folks, who are planning to change or get the career towards cloud computing. We are also offering the AWS Solutions Architect training program for $200.
Press release by: Indian Clicks, LLC