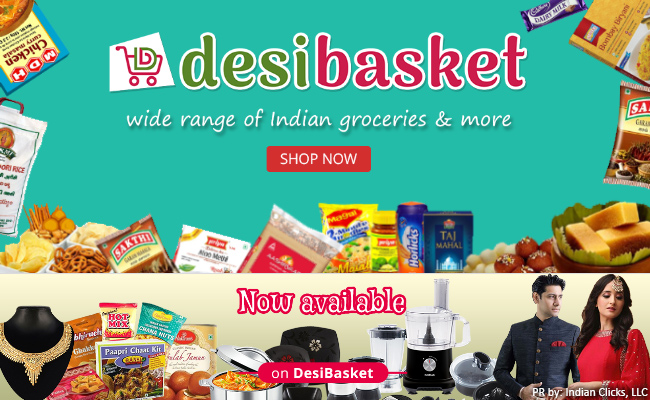 DesiBasket is an online grocery website offering high quality Indian grocery, Health & Beauty, Indian ethnic wear and kitchen appliances in USA.
It offers shipping all over USA including Hawaii, Alaska, Puerto Rico, Virgin Islands and Guam, owned by Clear Tech LLC, fulfilled by its Edison, New Jersey location.
It also offers free shipping on orders above $25 for most of the states, catering more than 500 brands and 5000 products.
Visit DesiBasket Online @ https://www.desibasket.com for wide range of Indian groceries like Rice, Dals, Flours, Snacks and sweets, Veg / Non-veg pickles, Ready To Eat curries, Masalas and spices. What's more? DesiBasket also offers fresh vegetables and frozen items as well.
Are you thinking about the expenses you have to bear for online shopping? Simple stay cool! Our prices are competitively set and highly affordable throughout the year. You don't have to bother about the grocery budget.
We offer exclusive discounts on groceries. Visit our Weekly smart buy specials below for the best offers you could avail online.
https://desibasket.com/special
Do you want to make Biryani at home sitting in New York or Houston or Chicago or Seattle? You can easily do it with top-rated branded Basmati rice and Biryani Masala that we provide. Are you interested in tasting non-veg pickles with pure Indian flavors? We are here to deliver the desired product.
In the US, it is difficult to get hold of authentic spices and Indian masala packets at local stores and super markets. There is really no reason to worry. Simply place your order online on DesiBasket. No matter what you prefer or how exclusive your culinary tastes are, DesiBasket is ever-ready to indulge you with warmth, reminding you of India.
No proper utensils at your kitchen to prepare food? It doesn't matter because we also sell nicely crafted kitchen appliances. You can easily buy Idli cookers, Grinders, Mixies, Tawa and many more on our website. We also sell exquisite eco-friendly dining sets.
Looking for Indian ethnic or party wear for anniversaries, birthdays, festivals or any special occasions? No worries, DesiBasket covers that too. Indian ethnic wear for kids, men and women are available for you to order online on DesiBasket through our exclusive sellers.
We also offer marketplace feature. If you wish to list your Indian products and become part of DesiBasket, please use below link for registering as seller and avail the facilities of our platform to connect with our customers.
https://desibasket.com/seller
Connect with us on Facebook and check for our new products with special discounts @ https://www.facebook.com/desibasketcom
Press release by: Indian Clicks, LLC