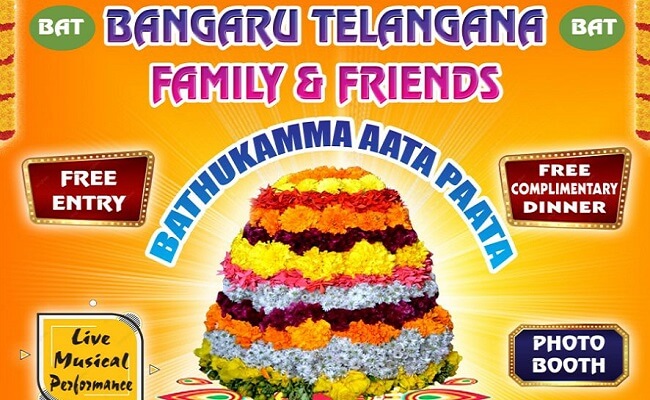 Bangaru Telangana(BAT) is a non-profit socio-cultural , charitable organization built to promote, preserve and perpetuate the Telangana community in the Greater Minnesota Area founded by like minded people.
Bangaru Telangana is the youngest organization in Minnesota reflecting the theme, the energy and the positive attitude similar to that of Telangana, the 29th state of India. BAT in its first year of origination, wants to bring the bubbly Telangana community in MN together for the glorious Signature festival, Bathukamma.
BAT's Bathukamma, is a free and fun-filled event loaded with lots of entertainment, delicious food and cultural events. This event also comprises of Durga Pooja, Bathukamma Aata Paata and Dasara Jammi Pooja.
We cordially invite you and your family to participate in BAT's Bathukamma festival and enjoy musical extravaganza by the Prominent Singers. Prizes will be given to the best Bathukammas.
Date and time: Sunday, OCTOBER 2nd from 4:30 PM TO 10:00 PM CT
Venue: Minnetonka Community Center, 14600 Minnetonka Blvd, Minnetonka, MN.
Please RSVP here https://www.evite.com/event/00E7SVTJFOL4Y4DHAEPNHGZA3PJ7BQ/
We greatly appreciate your presence!