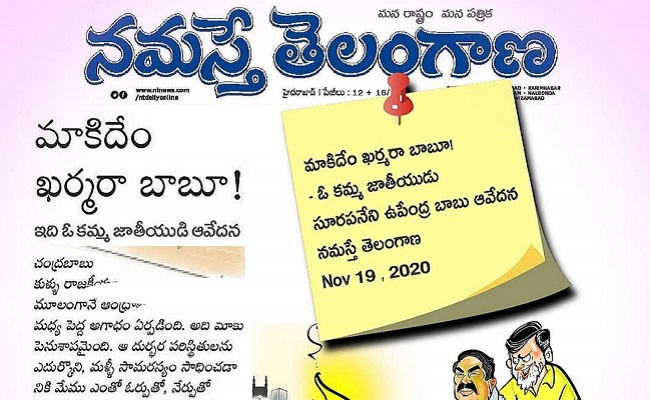 Surapaneni Upendra Babu, a Kamma by caste has expressed his anguish on Chandrababu Naidu's caste politics in his long article published in Namaste Telangana.
Here are the highlights:
- The Kamma community is living peacefully in Hyderabad. But Chandrababu's disruptive politics are troubling people like us. He has gone with the wind of bifurcation from Hyderabad but again he is coming here to ignite the communal fire. It is known that people have taught him the lesson both in Telangana and AP. Since his TDP is shut down in both the states, Babu seems to be getting suffocated.
- Babu cannot sleep well if everybody is peaceful. He wants communal politics to play the game.
- He is now advising the Kammas to vote for BJP but not TRS. He has failed in Amaravathi and now is putting his finger in Hyderabad.
- Kammas started facing problems ever since Babu entered the party. He started as a backseat driver and ended up as a backstab leader. Due to the communal politics of Chandrababu, the Kamma community is facing many wraths.
- Nothing has been done in Amaravathi is reality, other than the graphics in yellow news dailies. That is one of the reasons why people kicked him out of power.
- Due to Chandrababu's selfish politics there has been a big hiatus among the castes in Andhra Pradesh. That is troubling us a lot. We are struggling a lot patiently to develop the camaraderie with people like before. Now is Babu not willing to let Kammas in Telangana live peacefully? If Chandrababu listens to the wrong minds like RK, he will be in deep soup. It feels like Babu is on the mission to destroy the peace of Kammas.
- Whenever I speak with my Telangana friends, I understand how much they hate Chandrababu. For the bane of his birth in our community, we are also facing the curse.
- Chandrababu is not a reliable politician and that is evident now for the majority of the people. His political life has come to an end. His age has crossed 70. He is suffering from memory loss as per the officers inside. He calls someone to his cabin and questions the same person why he has come. Now the power is also gone. But still his mind is not changing. That's the most surprising thing. He is still conspiring to play the caste card in Telangana with menacing thoughts.
- He was caught morally in Vote For Note case and later ran away to Vijayawada leaving the Andhra settlers in Hyderabad to their fate. But now he is again coming to beg the votes shamelessly.
- What happens if he runs away again to AP, when either he or his family members are caught in any land grabbing case?
How many insults should we face then?
These things should be kept in mind by every AP settler and especially Kammas.
For Babu, elections are only for his selfish mission. He will never show his face after his desires are fulfilled. That is proved several times earlier.
Click Here for Latest Direct-to-OTT Releases (List Updates Daily)