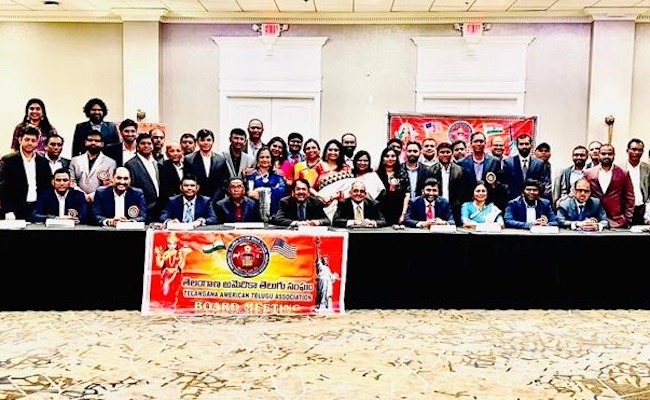 Telangana American Telugu Association (TTA), the first national Telangana organization, met at Greater Philadelphia on Saturday, May 20th, for the in-person Board meeting.
The opening message was given by the founder Dr. Pailla Malla Reddy garu. He shared his comments with fellow AC, EC, and BODs. Dr.Vijayapal Reddy Garu took oath as Advisory Council Chair and Bharath Madadi garu is appointed as Advisory Member TTA.
Advisory Chair Vijayapal Reddy garu conveyed his remarks and his plan of action towards the success of TTA for the next 2 years Pailla Malla Reddy Garu requested all the members of the TTA to participate in up-coming TTA Seva days planned for December 2023 and formed the TTA Seva days 2023 Committee.
President Vamshi Reddy Garu thanked all the Board and TTA Team for attending the Board Meeting and gave the presentation about his last 90 days as President and all the events conducted across the USA.
Later he thanked all the TTA chapters for adding new members and their tremendous work on getting the memberships.
TTA Advisory Approved and Announced their 2024 TTA Mega Convention at Seattle.
- TTA Seva Days Advisors are Naveen Mallipeddi and Jyothi Reddy
- Seva Days Coordinator is Suresh Reddy Venkanagari
- Co-coordinator Durga Prasad
- Co-coordinator (IVP) Prasad Kunarapu
Newly Elected Board of Directors are given oath by Dr. Mohan Reddy Patalolla garu, Advisory Co-Chair.
All the 37 Board of Directors attended the Board meeting and provide their last 3 months updates on various events conducted locally in their chapters.
President Elect Naveen Mallipeddi garu and all the EC members conveyed their remarks and their plans on organizing TTA Mega Convention 2024 at Seattle.
The AC, EC, BOD's, RVP's, and SC's thanked Greater Philadelphia TTA team for organizing the Board Meeting and for their hospitality. The team also thanked all the sponsors of the Board meeting. Later TTA team attended the cultural night organized by local Philly TTA Team.
CLICK HERE!! for the Photo Gallery.
Please visit https://mytelanganaus.org/
Content Produced by Indian Clicks, LLC