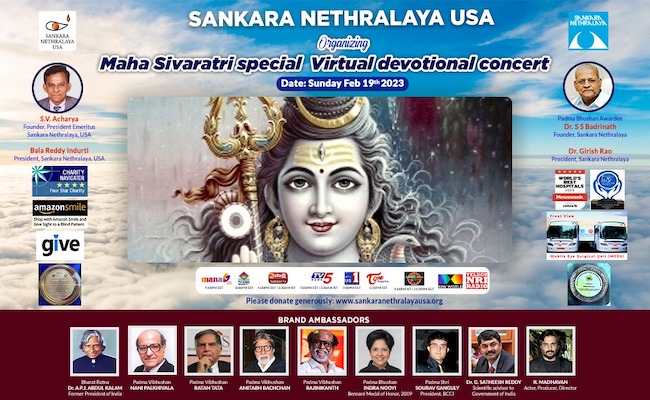 Sankara Nethralaya USA Maha Shivarathri Virtual Devotional Concert.
Padma Bhushan awardee Dr. S.S. Badrinath founded Sankara Nethralaya in 1978 with the inspiration from the speech by Pontiff of Kanchi Kamakoti Mutt. Sole objective of this organization is to provide world class eye care to the poor at free of cost and at affordable price to others.
Sankara Nethralaya (SN) is a not-for-profit charity organization providing ophthalmic (eye) care throughout India. For the last 4 decades, SN has treated Millions of patients. SN also organizes eye camps, school screenings and has eye banks.
One of the unique services is Mobile Eye Surgical Unit (MESU), only one of its kind approved by Government of India. These are operation theatres on wheels. MESU consists of two buses serving as operation theatre, go out to remote villages, screen around 1,000 patients and perform cataract surgeries on 150 to 200 patients over a two-week period and return to main campus after post-operative care.
Sankara Nethralaya USA (SN USA), fund-raising arm in the USA was established in 1988 with the sole objective of raising funds for SN to provide free services to indigent patients. SN USA is managed by thirty-five honorary trustees spread across fourteen chapters in the USA and has been raising over a Million dollars for the past several years.
On the occasion of Maha Shivarathri, SN USA organized a program of devotional songs on Lord Sankara in Telugu, Tamil and Kannada by singers from USA, Australia and Singapore. It was telecasted by the following major channels:
ManaTV: https://www.youtube.com/watch?v=f5aAjhhNtes
TVAsia Telugu: https://www.youtube.com/watch?v=xjB10ksB9R4
SakhiTV: https://www.youtube.com/watch?v=YuzjsEDqF-M
TV5: https://www.youtube.com/watch?v=LSu6k_3MSNc
Tone TV: https://www.youtube.com/watch?v=wlw367fnvmo
KIW World TV: https://meworldet.com/home/play-video/705
Singapore Telugu TV: https://www.youtube.com/watch?v=sE0zxvkdTz4
Thanks are due to the following singers across the globe. Without their support we could not have raised significant amounts for this virtual concert.
- Sri Sai Kasibhatla (Los Angeles, CA)
- Smt.Sandhya Eswara (Melbourne, Australia)
- Smt.Edavalli Seshu Kumari from Swara Laya Arts along with her students Abhinav Kantipudi and Aadarsh Agni on behalf of Samskrutika Kalasaradhi, Singapore
- Smt.Geetha Bhat (Rockville, MD)
- Smt.Shanti Medicherla & Smt.Neelima Gaddamanugu (Atlanta, GA)
- Sri.Srikanth Lanka & Smt.Sreshta (Dallas, TX)
- Sri.Babu Vinayagam & Smt.Sumitra Sampath(Herndon, VA)
- Vidwan Sri Sabari Girish (Los Angeles, CA)
- Sri.Bhaskar Udaya Ganti, (Washington D.C.)
- Sri.Srinivas Durgam(Atlanta, GA)
President of Medical Research Foundation, Dr. Girish Rao thanked the efforts of Sankara Nethralaya USA and the service of NRIs.
President Sri.Bala Reddy Indurti, President Emeritus Sri.SV Acharya planned, coordinated, and well executed this program and made it a grand success. Following Trustees and office bearers of Sankara Nethralaya USA appealed to donate generously to restore the vision of poor patients.
Sri.Moorthy Rekapalli, Vice President; Sri.Krishna Raj Bhat, Secretary; Sri.Shyam Appali, Joint Secretary; Dr.Raj Modi, Trustee; Sri.Sowmiya Narayanan, Trustee; Sri.Srini Reddy Vangimalla, Trustee; Sri.Upendra Rachupally, Trustee.
During the show, appeals by following Brand Ambassadors of Sankara Nethralaya was telecasted.
Bharat Ratna awardee Dr.A.P.J. Abdul Kalam, Bharat Ratna awardee Smt M.S.Subbu Lakshmi; Padma Vibhushan awardee Sri.Nani Palkhivala; Padma Vibhushan awardee Ratan Tata; Padma Vibhushan awardee Amitab Bachchan; Padma Vibhushan awardee Rajnikanth; Former CEO of Pepsico, Padma Bhushan awardee Indra Nooyi; Padma Shri awardee Sourav Ganguly; Scientific Advisor to Raksha mantri Dr.G.Satheesh Reddy; and Famous actor Madhavan.
On this auspicious occasion, Sankara Nethralaya USA welcomes new Board of Trustees: Dr. Kishore Chivukula, Auburn AL; Sri. T. Sridhar Reddy, Philadelphia PA; Sri. Raju Pusapati, Salt Lake City UT; Sri. Hari Raini, Chicago IL; Dr. Jayasimha Sunku, Colorado Springs CO; Sri. Suresh Vemulamada, Atlanta GA; Sri. Sridhar Julapally Atlanta GA; Sri. Vinod Parna, Seattle WA; Sri. Ramkumar Yadavalli, Freemont CA.
Sri. Ramesh Reddy Valluru from Washington DC is sponsoring MESU camp through Adopt-A-Village program. This camp will be organized in his village, Nendalur of Annamayya district from August 24th to September 3rd 2023. Smt. Ruby Nahar has contributed $15,000 and this generous donation will restore the vision to 230 indigent blind patients in India.
Thanks are due to all Board of Trustees, Volunteers, Philanthropists, and supporters who are working selflessly to restore vision to indigent patients.
Thanks are due to media partners manaTV, TV5 (Sridhar Chillara), TVAsia (Srinivas Ganagoni), Sakshi TV, US1 (Simhabaludu), TeluguOne (Subbu Kosuri), KIW WORLD TV (Srihari Kommineni) for promoting Sankara Nethralaya virtual streaming concert on different timings to give the flexibility to all viewers in different time zones.
SN USA, our fund-raising arm in the USA was given the highest rating of four stars by prestigious rating organization, Charity Navigator. Please extend your support for this noble cause of restoring the vision to indigent patients by generously contributing at
https://www.sankaranethralayausa.org
Content Produced by Indian Clicks, LLC