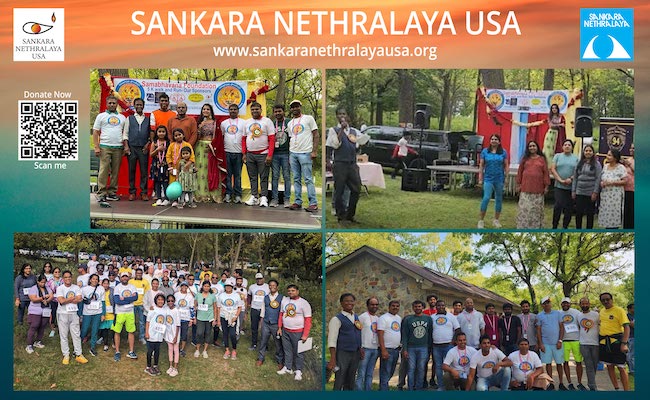 To raise awareness of Sankara Nethralaya in greater Milwaukee area, Samabhavana Foundation, a local non-profit organization organized 5k Walk and Run on Saturday, September 16th at Lapham Peak Unit, Delafield, WI.
This event was organized in collaboration with Sewa International USA to raise funds to support the philanthropic activities of Sankara Nethralaya USA. About 150 people participated enthusiastically and made this a memorable fun filed family event.
The event started with flagging off the Walk and Run by Adavi Anand at 9.00am. At the conclusion of the walk/run at 10.30, attendees were engaged in meditation and yoga sessions in a scenic outdoor space in the park in pleasant weather.
These sessions were coordinated by Sekhar Mogalapalli and Suneetha Mogalapalli from Art of Living organization. High light of the event was vanabhojanam, a delicious meal served on plantain leaves to the attendees that were seated in the park.
Afternoon session was choreographed by Madhuri Patibanda who was the singer and master of ceremonies. Madhuri delighted the audience with her melodious songs for more than an hour. Children and audience members danced delightfully to the tunes of popular songs from Indian films. Prizes were distributed to men, women and children who were the winners of the run.
Shriram Kelkar and Raghava Kondapalli informed the participants on the activities of Sewa International USA. Chandra Mouli Sarswathi and Bashid Bepar represented SNUSA. Chandramouli expressed gratitude towards SNUSA president Bala Reddy Indurti for guiding and organizing this event. They gave an overview of the SNUSA activities as a fund-raising arm of Sankara Nethralaya and encouraged the audience to donate.
Dr. Hari Bandla a founding member of Samabhavana Foundation emphasized that the goal of their foundation is to do annual walk and run, raise funds, and donate to a well-deserved Nonprofit organization with roots in India. He reiterated that the foundation is proud to donate to SN USA this year. The walk and run event were successful in raising more than $3000 towards donation to SNUSA.
Hari Bandla thanked the participants, donors and sponsors who contributed towards this donation. He expressed gratitude and appreciation to the executive members of Samabhavana Foundation who planned, organized, and executed this successful event. These members included Adavi Anand, Ravi Nadendla, Sai Yarlagadda, Venkata Reddy Kusukuntla, Amaar Veluri, Chandra Inampudi, and Srini Kalicheti.
Special thanks to Mr. Polireddy Ganta and his team for cooking the meal, serving the food, and volunteering throughout the day to make this event successful. Thanks, are also due to Telugu Association of Greater Milwaukee, Milwaukee Telangana Association, Wisconsin Shirdi Sai, ATA Milwaukee Chapter and New Berlin United sports group for their collaborative efforts in making this event successful.
Thanks are due to Sankara Nethralaya team Mr. Moorthy Rekapalli, Mr. Upendra Rachupally, Mr. Vamsi Krishna Eruvaram, Mr. Suresh Kumar, Mr. Theagarajan and Mr. Deena Dayalan for their unconditional support.
Content Produced by Indian Clicks, LLC