Mobile Top 340 by 250 AD Unit
| | |
| --- | --- |
| Banner Type & Greatandhra properties | Dimensions (W x H) |
| Mobile Top AD Unit | 340 by 250 |
Screenshot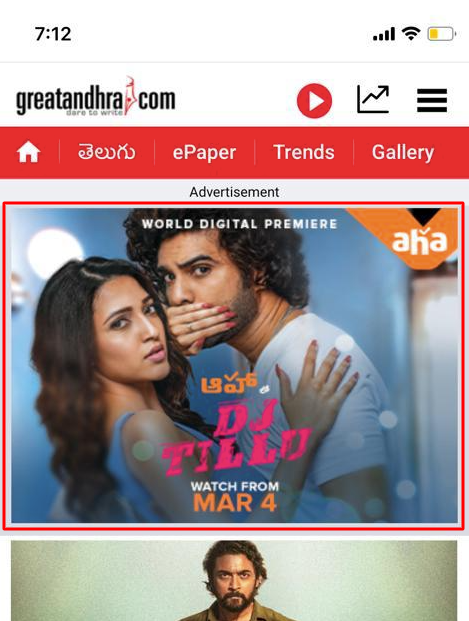 Ad Unit Specs
Maximum weight - 40 kb
Maximum frame rate - 12-16 fps
Animation limit - 15 seconds
Stop all animations before 15 second.
Looping not allowed. Can add a replay button (only for standard creative)
User initiated sound allowed, File loading not permitted.
Backup Image mandatory
Last frame should have the company's branding on it.
Accepted file formats:

PNG, JPEG, GIF, HTML 5 and 3rd Party tags for standard creative.
In case of tags, all images should include borders.
HTML Guidelines
An HTML document (mandatory)
If using CSS, it should be separate files
If using JavaScript, it should be separate files
Images (PSD,JPG, PNG, GIF)
Videos (MP4, OGV, WEBM)
IF using GWD file required in open format not published. expandable files should be single (Expandable). The expansion of the expandable file should be from the base file.